Breast cancer on the rise in young women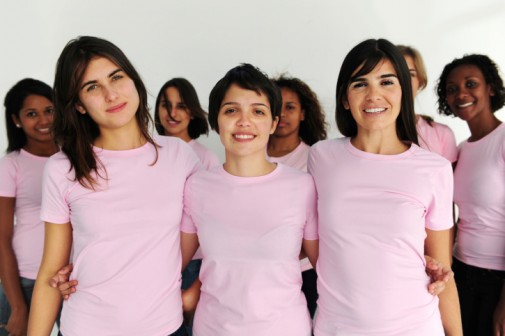 A recent study is giving young women a good reason to pay closer attention to their breast health. The news is based on previous data that may have given younger women a false sense of security about their risks for developing breast cancer. In fact, past research has shown that just under 7 percent of all breast cancer cases actually occur in women under the age of 40.
But the recent study, published in The Journal of the American Medical Association, found that advanced cases of breast cancer in young women in the U.S. climbed from an average of about 250 cases per year in the mid-1970s to more than 800 per year in 2009.
So what's behind the increase? Some studies suggest that the rise in the use of birth control pills over the past decade might be a factor, because of their synthetic hormones (estrogen and progestin/progesterone); while other research points to a link between breast cancer and hormone replacement therapy.
Physicians who are already weighing in on the research say the news should give doctors and young women a new reason to take a closer look when it comes to diagnosing and recognizing symptoms.
That's because diagnosing breast cancer in women under 40 can be more difficult. Their breast tissue is generally denser than the breast tissue in older women, experts say. And in some cases by the time a young woman feels a lump in her breast, the cancer is often advanced.
Additionally, breast cancer in younger women can be aggressive and less likely to respond to treatment.
Dr. Heidi Memmel, breast surgeon at Advocate Lutheran General Hospital located in Park Ridge, Ill., says it's very important that young women pay attention to the warning signs.
"If they notice any unusual discharge coming from their breasts or a lump, they should schedule an appointment to see their physician immediately."
Memmel says even though mammograms are not recommended for women under 40, there are exceptions when a woman is considered to be at high risk.
"Knowing your family history is very important," Memmel says. "If your physician is aware of certain risk factors, they may test earlier and likely recommend other preventative steps for their patients."
Memmel also points to advancements made in detecting breast cancer as a plus for young women: "Digital mammography is much more sensitive in detecting abnormalities in the presence of dense breast tissue."
When it comes to treatment in young women, Dr. Memmel says several factors are involved:
Treatment is based on the extent of the woman's disease as well as her personal history and overall general health and well-being.
Treatment options can include surgery to remove the lump and possibly some surrounding tissue. In some cases, a mastectomy may be required, which is the removal of a breast.
Radiation therapy is generally used following surgery. Your physician may also recommend chemotherapy and/or hormone therapy to help destroy any remaining cancer cells and prevent recurrence.
Because breast cancer can strike at any age, Memmel says women of all ages should be aware of the high risk factors for breast cancer, including:
A family history of breast cancer in a male or female close blood relative (first-, second-, and third-degree relative)
A personal history of breast cancer or if you have a specific genetic defect (BRCA1/BRCA2 gene mutation)
Any history of radiation therapy to the chest before age 40
Race, heavy alcohol use, smoking, very dense breasts and obesity
Taking preventive steps to ensure you are healthy is always the right thing to do. The American Cancer Society (ACS) recommends beginning at age 20, women get regular clinical breast exams at least every three years. The ACS also recommends annual screening mammograms starting at age 40. But it is important to note that the U.S. Preventive Services Task Force (USPSTF) recommends routine screening for women ages 50 to 74.
For more information on breast health, visit www.Storiesofthegirls.com.
Related Posts
Comments
About the Author
health enews staff is a group of experienced writers from our Advocate Health Care and Aurora Health Care sites, which also includes freelance or intern writers.