What your genes can tell you about breast cancer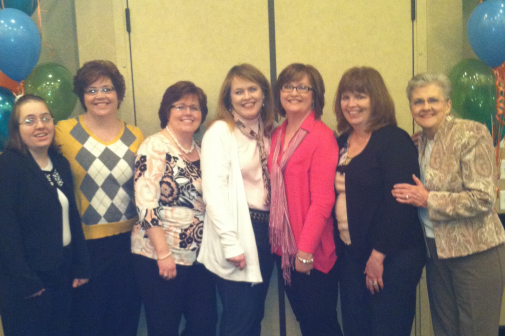 "Don't worry about it, it's most likely nothing."
That's what Sheila McGoldrick was told by her doctor after finding a lump in her breast. With no known family history of breast cancer and being so young,36 at the time and now 51-years-old, the "c-word" wasn't a possibility, right?
A few months after finding the lump, Sheila felt sick and "out of her norm." In her mid-thirties, Sheila hadn't yet had a mammogram but decided it was time. The scan showed something suspicious—follow up surgery confirmed that she had breast cancer.
"I had a lumpectomy, did the radiation, chemo and everything was good," she says.
Four years later, her sister Theresa, 33, also found a lump and was diagnosed with breast cancer.  Theresa was diagnosed for a second time at age 38. And just a few years after that during a routine exam, Sheila's youngest sister, Katie, a 32-year-old with Down syndrome, had a lump, too.
"We didn't believe that Katie could have breast cancer, too," Sheila says. "But she did."
It was at that time Sheila and her family was recommended to see Dr. Barbara Krueger, a breast surgeon with Advocate Medical Group.
And it was at just the right time, as only three short months after Katie's diagnosis, Sheila found a new lump.
"I made the decision then to have the double mastectomy," she says.
Dr. Krueger performed a double mastectomy on both Katie and Sheila.
Making the decision to do genetic testing
Sheila has five sisters and four brothers, one of whom passed away from brain cancer at 27-years-old. Now with three siblings in the same family diagnosed with breast cancer and after attending cancer support group classes and hearing others' stories, genetic testing seemed to be the next step for their family.
Some of the siblings opted not to do the genetic testing, but in total three sisters including Sheila and one of her brothers carry the BRCA1 gene, which is a mutation of genes at the highest risk for breast cancer.
"It wasn't until my second diagnosis that we found out we had two female cousins living in England who were diagnosed with cancer," she says. "We were able to determine that the gene comes from my father's side. Out of 45 first cousins, it's amazing to us that only these two families have been affected by the gene."
With the gene so prominent in Sheila's immediate family, she asked her children if they also wanted to know their results. With one son, age 31, and two daughters, ages 28 and 21, results were not what they had hoped.
"Both of my daughters have the gene," she says. "Currently we are talking with Dr. Krueger on the best options for my family."
Sheila believes the decision to do genetic testing isn't something to take lightly and says it's important to make your own decision whether to do it or not.
"I really admire my children having the courage to be tested," she says. "But I would never tell someone to do it or not, because it is a very personal choice."
After the genetic testing and counseling, Sheila and her family wondered if maybe there was some connection then with their family and cancer.
"Deb, our genetic counselor, helped us so much through providing the counseling, drawing charts and linking everything together for us," she says.
Deb Oleskowicz, a genetic counselor in the cancer risk assessment program with AMG, travels from site to site working with families to find their risk for cancer.
"Sheila, her sister and entire family are wonderful," Oleskowicz says. "It's so great how proactive they are with their health, and not pessimistic."
Finding support
Sheila and her sister attended several support groups, including FORCE (Facing Our Risk of Cancer Empowered). They loved being able to hear others stories and share theirs.
"It felt good being able to help other people, whether it was telling our story, answering their questions and letting them know they are not alone," she says. "I want people to not be afraid. Whether it's through encouraging others to make sure they get their regular mammogram or providing more information on genetic counseling."
Sheila took her situation day by day but always kept a positive outlook.
"From the first day I was diagnosed, I never sat there and thought 'Why me?'" Sheila says. "I have such a great family support and I didn't want to scare anyone, especially my kids."
Sheila has been cancer-free for five years, is enjoying life and looking forward to the next generation of her family as her oldest daughter will give birth this October.
"I never made my journey a scary thing," she says. "Sometimes I would ask myself 'Was that me that went through all of that? You just have to dust yourself off and keep going.'"
Related Posts
Comments
About the Author
Sarah Scroggins, health enews contributor, is the director of social media at Advocate Health Care and Aurora Health Care. She has a BA and MA in Communications. When not on social media, she loves reading a good book (or audiobook), watching the latest Netflix series and teaching a college night class.