Men can get breast cancer too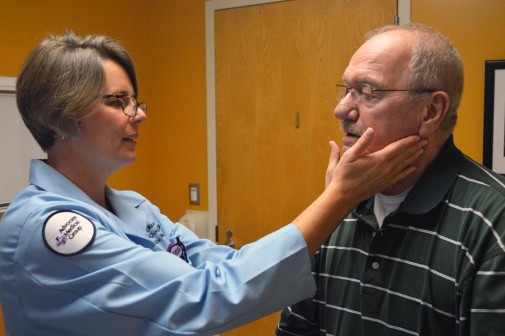 When Frank McManigal originally noticed the irritation of his left nipple, he thought of it only as a minor annoyance.
"I kept forgetting to bring it up to my doctor at my appointments," McManigal says. "Until the burning, itching and irritation got worse, I didn't think anything of it."
But it did get worse—to the point where just putting on a shirt was irritating the area, and he consulted his doctor, who referred him to a surgeon for testing.
Having already beaten prostate cancer three years before, McManigal says he we very surprised to be told the irritation was actually breast cancer.
"It didn't faze me much. I wasn't devastated, like I had been when diagnosed the first time (with prostate cancer)," he says. "Then, I don't think I slept for two weeks after the doctor told me. This time, I guess I was just more prepared. I'd already been through it. I just asked, 'What's next?'"
What was next was a mastectomy, the removal of the breast tissue in his left chest.
"I woke after the surgery and the doctor said 'You're cancer-free.' I remember thinking, 'How do you know?'"
According to the American Cancer Society, breast cancer in men is rare—about 100 times less common among men than women. An estimated 2,240 men are expected to be diagnosed with the condition this year, resulting in an anticipated 410 deaths.
The lifetime risk for breast cancer for men is about 1 in 1,000, says Dr. Ann Mauer, medical oncologist with the Creticos Cancer Center at Advocate Illinois Masonic Medical Center in Chicago.
"Most likely, the cancer will first be noticeable as a painless, firm mass in the chest—much in the way women may first notice a lump," Dr. Mauer says. "Sometimes, there may be changes in nipple, including a noticeable retraction or an alteration of the skin. The cancer may cause enlarged lymph nodes in the armpits, as well."
The risk factors for breast cancer also are similar for men and women, including age, a family history of breast cancer, Ashkenazi Jewish ancestry, obesity and prior exposure to radiation of the chest wall.
"If we see a male patient who's had breast cancer, we typically refer him for genetic counseling," Dr. Mauer says. "Male cancer is a feature of hereditary breast cancer syndrome, which is associated with BRCA1 and BRCA2 gene mutations. BRCA mutation also increases a man's risk for prostate cancer. In Frank's case, it was probably a coincidence that he had already been diagnosed with prostate cancer, as genetic testing showed he didn't have genetic BRCA mutation."
Five years after his mastectomy, McManigal, now 78, is still cancer-free. He's on tamoxifen, the same drug many women are put on following a breast cancer diagnosis to help prevent recurrence. He has an annual mammogram on his right chest and sees Dr. Mauer regularly.
In all, though the breast cancer was a rare surprise, he says he considers himself very lucky.
"I know mine was a very mild case, compared to some who have been through a breast cancer battle," he says. "I have no other health problems—no high blood pressure, no high cholesterol—none of that. My situation is very good, so I can appreciate the life I've been given."
Related Posts
Comments
About the Author
health enews staff is a group of experienced writers from our Advocate Health Care and Aurora Health Care sites, which also includes freelance or intern writers.