8 creative & healthy lunch ideas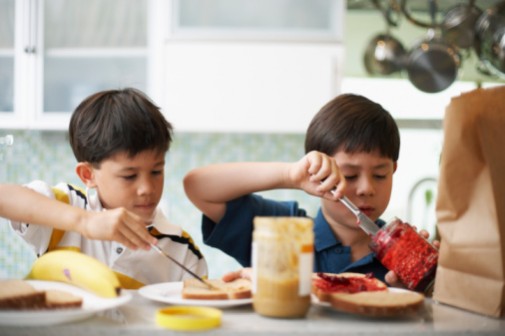 Kids have been back to school for only a couple months now, but many of them may be already complaining about their boring, brown bag lunches. As a parent, you might be running out of meal ideas.
But no worries…you don't need a degree in art or food sciences to get creative in preparing your child's lunch (or perhaps your own)!
Laurie Eschbach, registered dietitian and certified diabetes educator at Advocate Children's Hospital in Oak Lawn, Ill., recommends the following tips to help plan a healthy and fun lunch that your child won't toss or trade away:
Use a whole wheat tortilla or sandwich wrap instead of standard sandwich bread and fill with your child's favorite ingredients. If you are preparing meats for dinner, make extra so you can use it in the wrap for lunch the following day.
If you do prepare a sandwich on bread, use a large cookie cutter to cut sandwiches into fun shapes. Keep the sandwich healthy by using whole grain bread and low fat meats and cheeses as fillings.
Send a yogurt parfait made with fresh fruit, yogurt and a granola topping. A healthy fruit or bran muffin and cut up raw veggies is a good compliment. An insulated lunch bag with a freezer pack will keep lunch cool.
Create a healthy alternative to pizza by spreading pizza sauce on a whole grain pita and sprinkling cheese.
Fill a celery stick with low fat cream cheese or peanut butter and top with raisins, commonly called "ants on a log."
Make a smiley face snack. Spread peanut butter or cream cheese on a rice cake, use raisins or dried fruit to make a face and coconut flakes for hair.
Pack a small container of vegetable dip alongside the veggies to help your child eat their fill of greens for the day.
Make a trail mix using homemade popcorn, nuts, dried fruit and mini pretzels or crackers.
Eschbach says to always choose whole foods over processed foods whenever possible! Your own homemade creations will be far superior nutritionally to any pre-packaged food that you purchase.
She says to also encourage your kids to participate in the preparation of their lunches. By asking your child to help make his or her own lunch, they may be more likely to eat what has been prepared!
Related Posts
Comments
About the Author
Julie Nakis, health enews contributor, is manager of public affairs at Advocate Children's Hospital. She earned her BA in communications from the University of Iowa – Go Hawkeyes! In her free time, she enjoys spending time with friends and family, exploring the city and cheering on the Chicago Cubs and Blackhawks.