How holiday lights can send you to the ER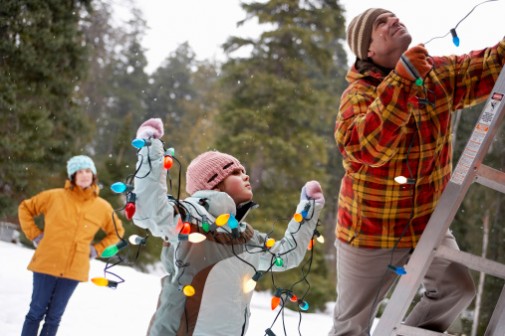 In preparation for the upcoming holiday season, scores of people will be mounting ladders to hang twinkling lights on their gutters, windows and trees.
But emergency department physicians warn that your holiday plans can come crashing down if you're not careful. ER docs say they see a jump in fall-related injuries at this time of year.
"It's typical to have more people showing up in the emergency department with injuries from falls while hanging decorations," says Dr. Rishi Sikka, emergency physician with Advocate Medical Group. "And some of those injuries can be severe."
Statistics back up Dr. Sikka's observation.
According to the American Academy of Orthopaedic Surgeons (AAOS), nearly 40,000 people sought emergency treatment for fall-related injuries during the 2010 holiday season. The Center for Disease Control and Prevention (CDC), in an older report, says that men are more likely to fall than women and that most fall victims are typically between 20 and 50 years old. Falling from ladders is most common, followed by falls from roofs, furniture, stairs and porches.
Dr. Sikka says head injuries and fractures are the most common types of fall-related injuries he sees in the emergency room. Sprains, cuts and bruises are also typical, he says.
"What we see are people who aren't used to scaling ladders and may do so only once a year" he says. "They tend to place the ladder improperly or lean too far hoping to save time by not having to move it too many times to get to those hard to reach places."
The AAOS, says a number of other factors can lead to serious injuries including trying to balance yourself on a ladder after you've had one too many drinks. "Save your celebratory drink for after the lights are up and illuminated," the AAOS cautions on its website. They also warn against standing on chairs or other furniture instead of a step stool and encourages people to choose the right kind of ladder for the job.
Not only can hanging holiday lights be dangerous, but the lights themselves do pose some risk.
The American Academy of Pediatrics, (AAP) says to make sure that your holiday lights don't have frayed wires or loose sockets which can be fire hazards. The AAP also warns against decorating metallic trees with lights. The tree can become charged with electricity from faulty lights and a person touching a branch could be electrocuted.
When hanging lights outside, the AAP reminds consumers to make sure the lights are certified for outdoor use and to never drive nails, staples or tacks through the wires while hanging them to avoid electric shock.
"Don't take risks with your safety at this time of the year or any time for that matter," Dr. Sikka says. "Following a common sense approach with the emphasis on safe practices will ensure you can enjoy the holiday season at home rather than the hospital."
Related Posts
Comments
About the Author
health enews staff is a group of experienced writers from our Advocate Health Care and Aurora Health Care sites, which also includes freelance or intern writers.