One year after my breast cancer diagnosis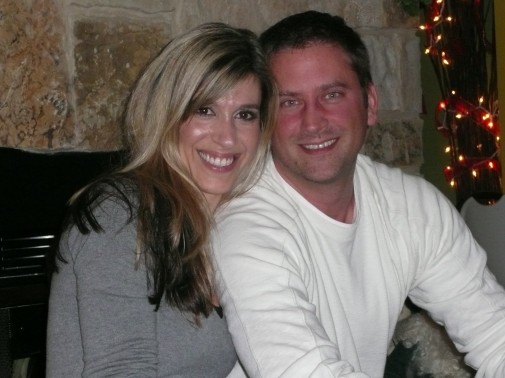 A year ago, my life changed forever…
A year ago, phrases like "malignant tumor," and "stage of cancer" became a part of my world…
A year ago, my Christmas holiday was taken away from me…
A year ago, (Christmas Eve to be exact) I was told I had breast cancer…
I still remember vividly laying on the table before my biopsy, and the radiologist putting my hand where the lump was on my breast.  She asked "Have you ever felt that before?" I replied, "I'm not sure." At that exact moment is when true fear came over me. Fear I had never felt before. Fear that I wish I never had to feel.
As heartbroken and scared as I was to hear the awful news four days later, that it was indeed cancer, I also felt a strength I had never felt before. I spent the first six hours lying in bed crying and trying to imagine what the next couple months would bring. It's almost like I was outside of my body watching this nightmare unfold.
I often hear people say that I was "brave since day one." But I wouldn't say that.  Someone who is "brave" is someone who is ready to face and endure danger or pain by choice. This is not something I chose. Nobody chooses this.
I did and continue to do what I have to do to not let the disease win. I felt strength from within from day one, but also fear. I never knew I could feel both at the same time.
Of course the fear came from the unknown. Asking question like: Will I die? Will I ever have children? Has it spread? Will I have to have chemo and a mastectomy?
The strength came from knowing that everything was going to be ok. That is what faith is to me, knowing things will go wrong in your life but in the end it will all work out. It doesn't matter who or what you believe in, faith is having complete trust or confidence in someone or something, which I personally think everyone has the capability to relate to.
I was always considered a pretty strong individual, however, the strength that I learned I really have has been shocking to me. I look back at this year amazed at the fears I faced and conquered. This disease is so random and vicious and there are so many people that, by no fault of their own, don't win the battle.
It doesn't mean they weren't "strong enough" or they weren't "positive" enough, it's unfortunately just the reality of the disease. Not for one minute does it escape me that I'm lucky that I won this round. I say this "round" because truthfully when diagnosed with cancer I think the one thing all cancer patients can agree on is that it's always in the back our minds (sometimes way back there, but nonetheless still there) if we will ever be faced with that terrible news again.
I do not let those feelings consume me; however, I would be lying if I said I don't think about it, especially before every doctor appointment.
I sit here a year later humbled by the support I have received and the love that I have felt. I am 100 percent a different woman then I was a year ago. I'm stronger, more confident, and so much more grateful for the people in my inner circle that never wavered with their support.
I'm also extremely grateful to have a voice by being able to write these blogs and to be a part of the Stories of the Girls breast cancer campaign. When I first was asked to be a part of the campaign, I felt bad for being chosen by Advocate. There are so many women out there battling this disease, what makes me so special?
Then I realized, just as I felt about getting cancer – Instead of "why me?," I said, "why not?"
I have said it since the beginning of my journey and I mean it from the bottom of my heart…I just want to help other women realize that not getting screened isn't going to prevent you from getting cancer. I encourage all women I know and meet to get their annual screenings; whether it's a mammogram, an ultrasound, or an MRI. They all save lives, and are all very important.
And my hope is that my story will guide you to make a decision that will possibly save your life.
Related Posts
Comments
About the Author
Jeannine Canino Bieda has worked in the Options industry for the last 14 years and cannot imagine doing anything else; she enjoys all the craziness, the good, the bad & the ugly! She is a breast cancer survivor. She is married to the love of her life and does not have any children but hopefully that will change one day. She is a proud Southsider but lives in Evanston now because it's where her husband is from; she learned quickly, you can take the girl out of the Southside but you can't take the Southside out of the girl! She is highly addicted to reality shows & gossip magazines and is not ashamed of it.