Sleep speeds concussion recovery in kids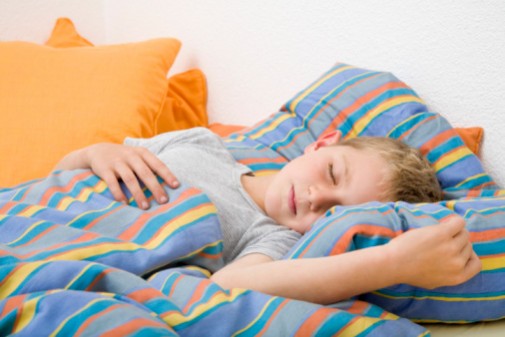 According to a new study published this week in the journal Pediatrics, children and young adults who rest not only their bodies, but their brains, gradually returning to everyday activities—like school and online activities—heal faster than those who jump right back in mentally.
The new study, conducted by physicians at Children's Hospital of Philadelphia, the University of Pittsburgh Medical Center and Boston Children's Hospital, involved 335 student athletes, ages 8 to 23, who suffered concussions between 2009 and 2011. The researchers found that those with minimal cognitive activity following their injury reported no symptoms of concussion—including nausea, dizziness and headache—40 days following their injury.
However, it took up to 100 days for those children who dove immediately back into schoolwork, reading and surfing online to report their symptoms fully resolved.
"We believe this is the first study showing the independent, beneficial effect of limiting cognitive activity on recovery from concussion," said Dr. William Meehan of Boston Children's Hospital, in a statement. "Previously, the lack of such data has led to varied practice with regards to implementing cognitive rest, making it even controversial."
Although giving the brain a rest shortened the concussion recovery time, the study authors suggest balanced activity is necessary. Dr. Meehan says that even children engaging in modest mental activity following their concussion recovered more quickly.
"Our findings suggest that while vigorous cognitive exertion is detrimental to recovery, more moderate levels of cognitive exertion do not seem to prolong recovery substantially," he says. "Thus, we recommend a period of near full cognitive rest acutely after injury, approximately three to five days, followed by a gradual return to sub-symptom levels of cognitive activity."
According to the Centers for Disease Control and Prevention (CDC), nearly 175,000 children suffer sports-related concussions each year. And the brain injury continues to be put in the national spotlight as professional athletes come forward with their confessions of long-term concussion symptoms, such as memory loss and mental deterioration.
Dr. Raina Gupta, neurologist at Advocate Illinois Masonic Medical Center in Chicago, says this study confirms what she and her colleagues have long believed, but lacked the research necessary to prove.
"We're already putting this into practice, but it hasn't been studied before in an organized fashion," Dr. Gupta says. "I use the same questionnaire—Along with a full neurologic exam and memory, cognitive and balance testing—in my practice to effectively tease out some of the more vague concussion symptoms with my patients. Patients often have difficulty describing their symptoms in detail."
Dr. Gupta said she agreed that cognitive rest is imperative to full recovery from concussion.
"I ask my patients to decrease their cognitive activity initially by about 50 percent of what's normal for them, based on their symptoms, increasing gradually over four to six weeks," she says. Noting that the study found an average of 43 days for symptoms to disappear, she says, "It really does take that long to fully recover from a concussion."
Related Posts
Comments
About the Author
health enews staff is a group of experienced writers from our Advocate Health Care and Aurora Health Care sites, which also includes freelance or intern writers.