Breast milk donors help tiniest babies thrive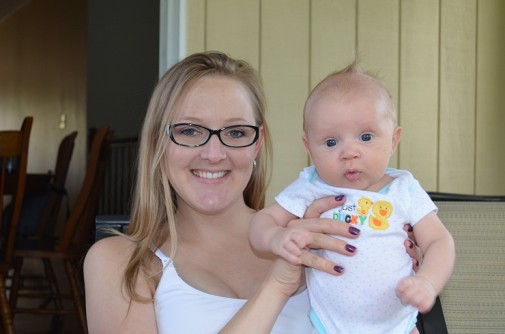 As a nurse, Audrey Wirth understands the benefits of breastfeeding. So when she delivered her son Jack in late June of 2013, she made the decision to exclusively breastfeed. Her goal: No formula—ever.
Then at five weeks, Jack fell ill with viral meningitis and had to be hospitalized. Wirth was unable to nurse for two months, and lost her milk supply, however, she was still able to feed Jack with a bottle by pumping.
"I had to do all sorts of things to increase my supply, and now I have a ton," says Wirth of Aurora, Ill.
When her milk returned and she finally got back to breastfeeding with Jack, Wirth made another decision—to become a breast milk donor.
The decision was fairly easy. Babies in neonatal intensive care units (NICUs) that receive human milk over formula have much better outcomes. According to the March of Dimes, one in 10 infants born in the United States is admitted to the NICU, and when given human milk, these infants have less infections and gastrointestinal issues, and improved vision, among other benefits.
Although Jack was not born in the NICU, Wirth's experience with Jack in the hospital made her sympathize with what a new mom might go through in that situation.
"It takes three or four days for your milk to come in so they must feel helpless. If I can help them and relieve stress for them by donating milk, then why not?" she says.
Supply and demand
After learning techniques to increase her supply, Wirth has plenty to donate.
"I went to a support group and learned tips and tricks, and eventually my supply was moving so I make more milk than my son needs," she explains.
"I learned about how you can freeze it for six months in a freezer and 12 months in a deep freezer. So pretty soon my freezer got full, and I can't throw it away so I bought a deep freezer, and now my deep freezer is almost full of milk," she says.
Currently, Wirth has almost 2,000 ounces of milk frozen. Typically, she freezes between 10 and 20 ounces of extra milk a day. A breastfed baby takes between 24 to 32 ounces a day so she's making almost twice as much as her son needs.
Her decision to donate was cemented after watching a PBS special called "Donor Milk," which featured a 10-minute segment on breast milk donations and local milk banks.
Giving process
Wirth found that there were two milk banks in the area, Indiana Mother's Milk Bank in Indianapolis and the Mothers' Milk Bank of the Western Great Lakes in the northern suburbs of Illinois scheduled to open its doors in 2014. She reached out to them to express her interest, and they explained that a screening process would be required.
The screening process is rigorous. Wirth had to take a 16-page survey about her health, her diet, any medications she takes, as well as Jack's health. Once her obstetrician and Jack's pediatrician signed off on their health, Wirth had to have blood drawn to check for blood-borne diseases. Then she got the all-clear to begin donating.
"They mailed me a cooler so it's all prepaid. I pack all my milk in dry ice or go to a milk depot (a nearby drop-off site). This cooler holds 250 ounces so I'll start there," she says, adding that she'd like to keep some for her son Jack later when he stops lactating.
When the milk banks and depots collect the milk, Wirth says it's thawed, pooled together from all the moms to ensure that it's well-rounded and nutrient-rich, and then pasteurized to decrease the risk of possible contamination.
Not all hospitals participate, but it's definitely a best practice, Wirth says.
"I think donating breast milk is one of the best gifts you can give someone to help a baby thrive," says Dr. Anisha Shetty, Jack's pediatrician. "The advantages premature babies can receive make a huge difference. I'm really excited to encourage other moms to donate," says Dr. Shetty with Dreyer Medical Clinic in West Aurora, Ill.
"As a nurse I always knew breastfeeding was the best thing, but learning about it and becoming a donor is something entirely different—and means so much more," Wirth says.
Related Posts
Comments
About the Author
health enews staff is a group of experienced writers from our Advocate Aurora Health sites, which also includes freelance or intern writers.