Prevent diabetes with the Mediterranean diet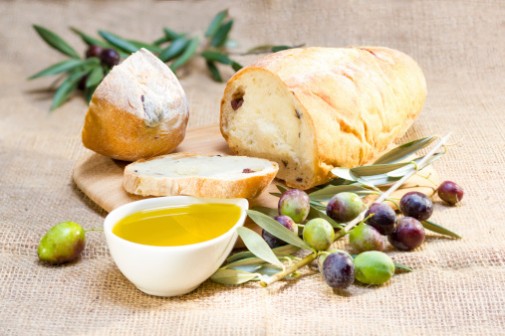 Numerous studies offer up diet and lifestyle changes to prevent diabetes. Now a new study says following the Mediterranean diet could be the trick.
The diet, known for its rich foods and low saturated fats, adds nuts, fish, whole grains, olive oil and vegetables to your daily nutrition. Experts believe these types of food sources with added emphasis on increasing olive oil intake may help those who are at high risk for heart disease by preventing diabetes.
Researchers from Rovira i Virgili University in Spain reviewed information from more than 3,500 people ages 55 to 80 at high risk for heart disease over a six-year time period. All participants had at least three or more heart disease risk factors, but none had been diagnosed with diabetes.
They discovered that the people put on a Mediterranean diet were 30 percent less likely to develop diabetes in the next four years. This is in comparison to those on a generic low-fat diet. Participants were not asked to change their calorie counts or add in any exercise programs.
"Randomized trials have shown that lifestyle interventions promoting weight loss can reduce the incidence of Type 2 diabetes, however, whether dietary changes without calorie restriction or increased physical activity also protect from diabetes development has not been evaluated in the past," said the study's lead author Dr. Jordi Salas-Salvado in a statement to Reuters Health.
Researchers found that after four years, 273 of the participants developed diabetes, with 8.8 percent of them being from the low-fat diet group, 6.9 percent for those in the Mediterranean diet group getting their unsaturated fat from olive oil and 7.4 percent for those on the Mediterranean diet with emphasis on mixed nuts.
The conclusions of the study may be a coincidence, researchers add, and are unable to explain why the mixed nuts diet didn't have the same benefit as the olive oil diet.
Salas-Salvado believes that combining a Mediterranean diet and lowering daily calorie intake can help minimize risks even more.
"These benefits have been observed in participants between 55 to 80 years old at high cardiovascular risk," Salas-Salvado said. "Therefore, the message is that it is never too late to switch to a healthy diet like the Mediterranean."
Related Posts
Comments
About the Author
Sarah Scroggins, health enews contributor, is the director of social media at Advocate Aurora Health. She has a BA and MA in Communications. When not on social media, she loves reading a good book (or audiobook), watching the latest Netflix series and teaching a college night class.