Can reality TV reduce teen pregnancies?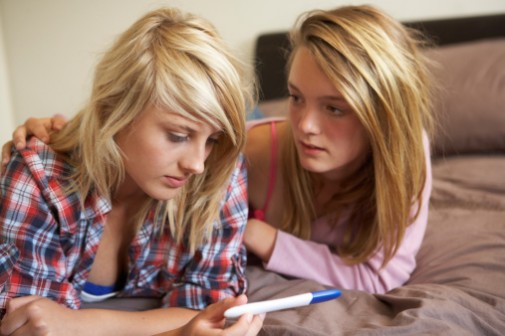 MTV's hit show '16 and pregnant' has been known for glorifying teen pregnancy by making young pregnant teenage girls famous for their underage antics and unknown parenting skills. But new research is saying this show may actually be helping to reduce teen pregnancy rates.
The show's premise is based on teen girls who are pregnant, following them throughout the entire process. The sequel to these girls' lives is continued on through MTV's other hit reality show 'Teen Mom.' The premise of this show follows up with the teens after they have their babies showing their everyday lives.
The University of Maryland and Wellesley College wanted to take a closer look on how the show affects its viewers, particular on pregnancy rates.
The results showed that for all of those teens who watch the show, the teenage birth rates have fallen more than 5 percent.
Researchers use the web and social media sites to gage the audience's reactions and comments while analyzing the birth rate statistics for girls age 15 to 19.
An interesting finding was that the more the show continued, search rates for "birth control" and other similar phrases became more relevant.
"We find that '16 and Pregnant' led to more searches and tweets regarding birth control and abortion, and ultimately led to a 5.7 percent reduction in teen births in the 18 months following its introduction," said Melissa S. Kearney and Phillip B. Levine, lead authors of the study in a statement.
Researchers found that this percentage accounts for nearly one-third of the overall decline in U.S. teen birth rates during the time of their study of the show.
Check out this infographic from Wellesley College on "Media Influences on Teen Sexual Behavior and Childbearing:"
Related Posts
Comments
About the Author
Sarah Scroggins, health enews contributor, is the director of social media at Advocate Aurora Health. She has a BA and MA in Communications. When not on social media, she loves reading a good book (or audiobook), watching the latest Netflix series and teaching a college night class.