Getting to the heart of the matter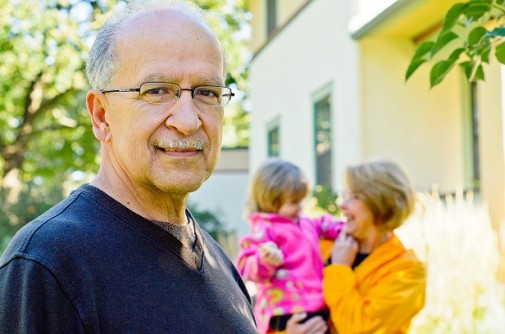 Elgin resident Luis Cabrera is dedicated to living a healthy lifestyle. He takes regular walks around the neighborhood with his wife and eats a nutritious diet filled with fruits, vegetables and lean meats. However, his family history of heart disease has always been in the back of his mind. 
As a precaution, Cabrera decided to get a Healthy Heart CT Scan at Advocate Sherman Hospital in March 2013. This preventative test spots calcium deposits in the coronary arteries—an early sign of heart disease.           
"I assumed that at my age, if I had any heart problems, they would start showing up now," he says. "I didn't feel sick, but I thought it would be a good idea to get a screening test for preventative purposes." 
The Healthy Heart CT Scan revealed Cabrera had significant calcium deposits in his coronary arteries. After consulting with his family doctor, Dr. Dorothea Poulos, Cabrera made an appointment with Dr. Raminder Singh, a cardiologist with Advocate Medical Group, to go over his results. Dr. Singh discussed various options with Cabrera, and further evaluation revealed he had three-vessel coronary artery disease with multiple blockages. Due to the severity of the blockages, Dr. Singh recommended triple bypass heart surgery. 
"I had no clue that I had a serious heart condition," Cabrera says. "I consider myself very lucky to have caught the problem early enough to receive treatment."  
Healthy Heart Screenings
The Healthy Heart CT Scan detects problems early on so you can take preventive measures, such as lifestyle modification and medical treatment, before symptoms occur. "A Healthy Heart CT Scan is recommended for those who are asymptomatic and have intermediate risk of heart disease, such as strong family history, high cholesterol and diabetes," Dr. Singh says. "Not only can these tests make a difference by prompting people to change their lifestyle habits, but they can also prove life-saving, as in Luis's case." 
A higher coronary calcium score indicates the patient has a higher chance of having significant coronary artery disease and requires further evaluation such as a stress test or angiogram. "Depending on the results of the final evaluation, treatment with angioplasty stenting or open heart surgery may be necessary," Dr. Singh says. "Others might simply need aggressive risk factor modification such as cholesterol-lowering medication and a diet and exercise regimen." 
In addition to the Healthy Heart CT Scan, Sherman offers a Carotid Artery Screening, which looks for carotid artery disease or plaque build-up in the blood vessels. Other screening tests include the Abdominal Aortic Aneurysm (AAA) and Peripheral Vascular Screenings. 
Excellence in Cardiac Care
Cabrera had triple bypass surgery in June 2013—three months after undergoing the initial Healthy Heart CT Scan. "I received excellent care at Sherman—everyone was friendly, professional and knowledgeable," he says. "They answered all my questions and explained everything they would be doing, so I felt very comfortable and at ease." Sherman is dedicated to continually improving the quality of its cardiovascular care. In fact, the hospital recently received recognition for its aggressive goal of treating cardiac patients to standards outlined by the American College of Cardiology (ACA) and American Heart Association. 
Cabrera's surgeon was Dr. Vu Hoang, cardiothoracic surgeon on the medical staff at Advocate Sherman Hospital. "I communicate openly with patients and their family members to provide a solid understanding of what they can expect throughout their journey, from the day of surgery through recovery," Dr. Hoang says. 
On average, Hoang explains, open heart patients are out of the hospital in four days. Cabrera made a quick recovery and was released from the hospital in only three days—likely the result of his healthy lifestyle. According to Hoang, open heart patients can return to their normal, active lifestyle in three months. "Post-surgery, we encourage patients to walk every day in the hospital," Dr. Hoang says. "At home, we encourage them to walk a mile each day. After six weeks, we set up cardiac rehabilitation to increase their strength and stamina." 
Cabrera participated in a 36-week cardiac rehabilitation program at Sherman. The focus of cardiac rehabilitation is to help patients return to an active lifestyle with a combination of exercise and education. Cardiac nurses and exercise physiologists monitor a patient's heart rate, blood pressure and telemetry while they perform a variety of exercises such as walking on a treadmill and riding an indoor bicycle.  
A Life-Saving Decision
Currently, Cabrera is back to his normal routine, including daily walks with his wife and spending time with his two young grandchildren. He is thankful that he discovered his heart condition early enough to receive the necessary treatment.   
"I simply saw an advertisement in the local paper for the Healthy Heart CT Scan and thought it would be a beneficial thing to do for my health," he says. "I had no idea that it would be a life-saving decision."
If you live near the Elgin, Ill. area, join Sherman Hospital for their annual Heart of Diabetes Family Fun Fair on Feb. 8. Learn about the link between heart disease and diabetes and the steps you can take to keep your family healthy. Click here to register or call 1-800-3ADVOCATE.
Related Posts
Comments
About the Author
health enews staff is a group of experienced writers from our Advocate Aurora Health sites, which also includes freelance or intern writers.