Two brothers with one common heart defect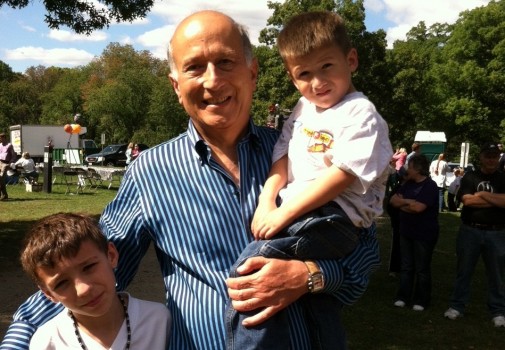 It's sometimes hard to imagine that something as wondrously made as the human heart could have a defect, particularly at birth. It's actually more common than many realize, however.
In fact, for Carrie Vasquez of Rock Falls, Ill., a congenital heart condition called ventricular septal defect or VSD was twice as common for her two sons, Jack and Javier.
VSD is essentially a hole in the wall of the heart that separates its two lower chambers. During the development of the fetus, the chamber wall closes before birth so that the oxygen-rich blood does not mix with oxygen-poor blood. When the hole remains, it can cause greater heart pressure or reduced oxygen to the body.
Vasquez's VSD experience with each of her sons was quite different. "With Jack, my pediatrician discovered it at his eight-week checkup," she says. Jack was then referred to a cardiologist in Rockford, Ill., who then presented the case to Dr. Michel Ilbawi, a pediatric cardiovascular surgeon at Advocate Children's Hospital in Oak Lawn, Ill., who eventually performed the surgery to repair the chamber wall.
"The procedure is closure of the VSD with a patch," explains Katie Wittle, advanced practice registered nurse in pediatric cardiovascular surgery, who works with Dr. Ilbawi at Advocate Children's Hospital. "We use a manmade material called Goretex. The same company that makes the patches also uses Goretex for many other things such as outdoor wear."
At 6-months-old, Jack went in for surgery and was in and out in three days, "and that was remarkable to us," Vasquez says.
Javier's experience with VSD was completely different. When Vasquez went in for her 20-week checkup while she was pregnant, she learned Javier had an issue with his heart. In addition to having a VSD, Vasquez learned that he also had an interrupted aortic arch.
"What we were told is that the aortic arch looks like a candy cane, and it was pinched at a certain point so the blood flow was interrupted," Vasquez says. It was determined that the interrupted aortic arch was caused by a genetic issue.
Vasquez went to a geneticist for amniocentesis and a FISH (fluorescence in situ hybridization) test was done, which looks for genetic disorders in human cells. The test revealed that Javier had Digeorge Syndrome also known as "chromosome syndrome," which Vasquez explains as "a q22 deletion because the 22nd chromosome is deleted a bit or partially missing." That deletion can cause multiple organs in the body, including the heart, to be affected.
Four days after his birth, Javier went in for surgery to correct both the aortic arch and the VSD, which Dr. Ilbawi performed as well. Javier actually had two VSDs as did Jack, but only one was closed.
Wittle explains that there are different types of VSDs based on their location in the wall between the two lower heart chambers. Some are more likely to close than others, she says. The ones that were repaired in both Jack and Javier were the ones doctors were concerned with the most.
If a child has a VSD closed during childhood, Wittle says, there will likely be no impact on the child's ability to grow and develop normally. "If the VSD is not closed, this can make extra work for the heart and lungs, which can seriously affect the person in early adulthood, and may cause irreversible damage to the lungs," Wittle says.
Javier's surgery, like Jack's, was successful. Had the issue with his aortic arch not been detected in-utero, "Javier probably would not have made it," Vasquez says.
Now, Jack, age 9, and Javier, age 4, are both doing well. The boys both see Jack's cardiologist regularly, and Jack just recently was told he doesn't have to see the cardiologist for another two years.
"They're both pretty normal kids. Javier is seeing a developmental therapist, and he just started preschool, so he sees a speech therapist there as well. He's a little delayed," Velasquez says, due to the Digeorge Syndrome.
Next to the successful surgeries, Vasquez says the biggest achievement was being able to attend the picnic Dr. Ilbawi's team puts on for the patients.
"I was happy to have my older son finally meet him because Jack was only in the hospital for three days so I only got to know Dr. Ilbawi for a short period. When Javier was born, we got to see him almost daily. He really cares about his patients and takes time with them," she says.
As for how parents can best handle the situation, Velasquez says, "You can't worry what can go wrong. All you can do is worry about what is." She adds, "We stayed at the Ronald McDonald house near Advocate Children's Hospital where you see families with kids who have all kinds of conditions so you come to realize there are always others who have it worse."
Related Posts
Comments
About the Author
health enews staff is a group of experienced writers from our Advocate Aurora Health sites, which also includes freelance or intern writers.