Don't drink, drive at 55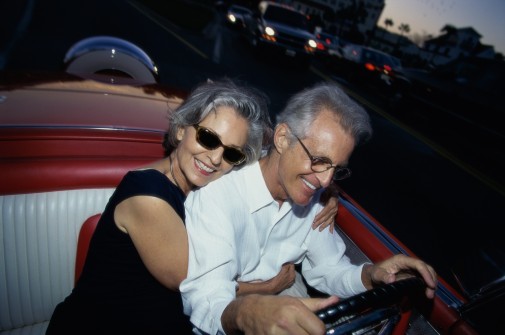 Much research has been done on the effects of alcohol on young drivers. A new body of research examines the effects of alcohol on senior drivers—with surprising results. Researchers found that baby boomers—ages 55 and older—were impaired after having only one alcoholic drink.
The study, published in February in the journal Psychopharmacology, examined how two groups, those ages 25 to 35 and those ages 55 to 70, were affected by drinking. Researchers tested how levels of alcohol below the legal limit of 0.08 affected the driving ability of these two groups.
As part of the study, both groups took a simulated driving test while sober. Driving sounds were piped in through a stereo system and participants sat at a console with a steering wheel, and pedals for the gas and brake. Surrounding participants were computer monitors that indicated what drivers would see in their peripheral vision and in front of them along a winding 3-mile stretch of country road. Occasionally drivers would see an oncoming car, but they did not encounter other distractions.
The drivers' ability to maintain constant speed and stay in the center of their lane were monitored along with how quickly they made steering wheel adjustments.
In another test, the groups were divided further into three groups: The first group drank a placebo made up of diet lemon-lime soda with a hint of alcohol to mimic the feel of drinking alcohol. The second group consumed a strong enough drink to produce a 0.04 percent breath alcohol level. The third group consumed a drink that gave them a 0.065 percent breath alcohol level.
Participants then took the same simulated driving test as when they were sober. Researchers found that younger adults' alcohol consumption did not affect their measured driving skills—at all. Co-author of the study Sara Jo Nixon said in a statement that just because young adults' driving wasn't affected in the simulated environment doesn't mean their driving wouldn't be affected in a typical, real-world setting.
For older drivers, even the small, legal levels of alcohol affected their driving.
Based on these results, researchers said it could be time to re-examine legal blood alcohol levels for all drivers.
Related Posts
Comments
About the Author
health enews staff is a group of experienced writers from our Advocate Aurora Health sites, which also includes freelance or intern writers.