Surgery gives infants born with heart defects longer lives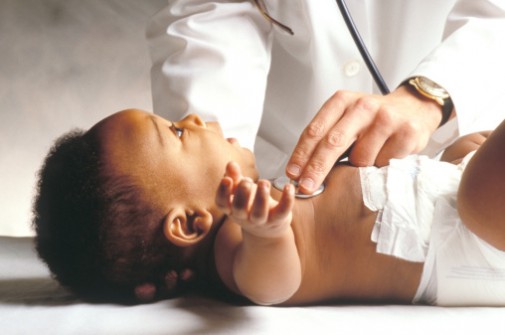 We often hear about heart problems that occur because of an unhealthy lifestyle. But for some, heart problems develop even before they are born. Nearly 1 percent of babies born in the United States each year have heart defects.
According to the Centers for Disease Control and Prevention (CDC), congenital heart defects are the most common birth defects. Today, with medical advances and more treatment options, the numbers of infants born with heart defects are now surviving well into adulthood. It's estimated that 20,000 people with congenital heart disease or defects reach adulthood every year in the United States.
Congenital heart disease (CHD) refers to a problem with the heart's structure and function due to abnormal heart developments before birth. CHD can describe a number of different problems affecting the heart.
CHD could be something simple as a small repairable hole between the left and right sides of the heart (atrial or ventricular septal defect). Or it could be something more complex, such as a baby being born with only one pumping chamber of the heart (ventricle), when normally there are two.
According to Dr. Keren Hasbani, pediatric cardiologist at Advocate Children's Hospital in Park Ridge, Ill., "Almost all congenital heart defects are repairable with surgery in this day and age. There are three forms of diagnoses: mild, moderate and severe."
Dr. Hasbani explains that with modern technology and fetal diagnostics, expectant moms whose babies test positive for fetal heart abnormalities are advised to deliver at a center capable of handling pediatric congenital heart defects. Therefore, the baby can be placed on appropriate medications at the onset of delivery.
Medications may include digitalis (digoxin) and diuretics. This way a baby doesn't have to experience low fluids to the brain or kidney, which worsens the severity of the defect. Improved early life stages of surgery are also performed when the baby is as young as 3 to 6 months old.
While medical advancements have improved the quality of life for children born with heart defects, they are not cured. For infants born with moderate or severe CHD, an annual follow-up visit with a pediatric cardiologist who specializes in congenital heart disease is required. As a child ages, transitioning to an adult congenital heart cardiologist is needed, according to Dr. Hasbani.
Related Posts
Comments
About the Author
health enews staff is a group of experienced writers from our Advocate Aurora Health sites, which also includes freelance or intern writers.