When stomach pains become a stomach issue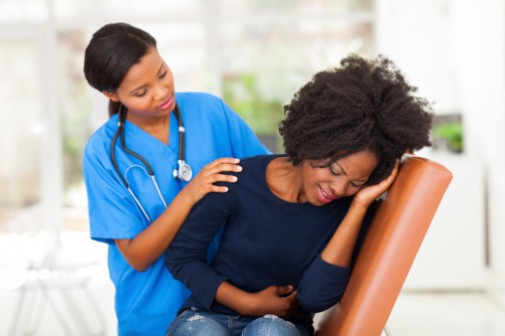 It might not be considered polite dinner conversation, but so-called "stomach issues" are quite common. Studies estimate that up to 20 percent of U.S. adults suffer from irritable bowel syndrome (IBS), a common gastrointestinal disorder characterized by chronic abdominal pain and altered bowel habits.
Common symptoms include diarrhea, constipation, nausea, bloating or gas on a regular basis. Although IBS can affect anyone, it's more common in young adults and occurs twice as often in women. Women with IBS also tend to experience more symptoms during their menstrual periods.
"Anyone whose quality of life is negatively affected by these symptoms should see a physician," says Dr. George Morgan, a gastroenterologist with Advocate Good Samaritan Hospital in Downers Grove, Ill. "Don't be embarrassed."
Keep track of what symptoms you have and when you experience them so you can share this information with your doctor. If you're losing weight or finding blood in your stool, further testing might be necessary.
Maintaining a food journal can help you see patterns and learn what foods trigger your symptoms, although symptoms can flare up even if you avoid these foods. Common foods that irritate IBS include:
Gas producing foods such as raw vegetables, including broccoli, spinach, cauliflower, Brussels sprouts and asparagus
beans
fried foods
dairy
chocolate
alcohol
carbonated drinks
fructose (corn syrup)
occasionally gluten-containing foods
It can be helpful to take note of stressful situations because stress can aggravate symptoms. A thorough history is the most important tool a physician has to diagnose IBS, Dr. Morgan says.
Medication often can help. For abdominal discomfort, anti-spasmodic drugs (such as muscle relaxers) can relieve cramping. For constipation, over-the-counter bulking agents, such as bran and fiber, or non-stimulant laxatives encourage bowel movements. Anti-diarrheal drugs slow transit so fluids have more time to be absorbed in the colon.
"Most of my patients have been able to manage their IBS symptoms so well, they tell me they wish they would've sought treatment sooner," Dr. Morgan says. "My advice: Don't wait another day. Talk to your doctor about IBS."
Related Posts
Comments
About the Author
Lisa Parro, health enews contributor, is manager of content strategy for Advocate Aurora Health. A former journalist, Lisa has been in health care public relations since 2008 and has a master's degree in journalism from Northwestern University. She and her family live in Chicago's western suburbs.