Why I shaved my head and am loving it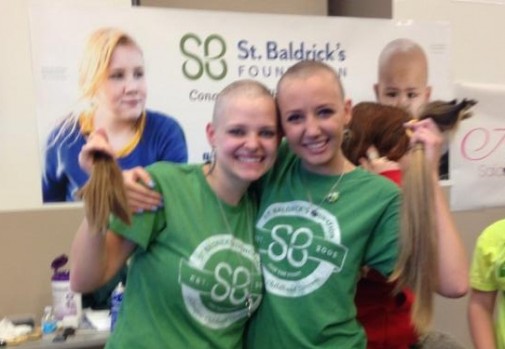 When I decided to shave my head for St. Baldrick's, it came as a surprise to most people, but not to me. 
I had been thinking about doing it for a couple years now, but this year I felt like the time was finally right. I no longer had graduation, certification exams, or job interviews to worry about. After working with the pediatric oncology population at Advocate Children's Hospital in Oak Lawn where I am a certified child life specialist, it just made sense – why not shave my head for a great cause? 
My coworker and fellow certified child life specialist, Harriet Tenerelli, also shaved her head this year for St. Baldrick's. Hearing Harriet tell the office that she was going to participate this year gave me the confidence to say that I was planning on doing it as well. 
Until then, only my family and a handful of friends knew. I think I liked the comfort of not many people knowing quite yet, but making that pact with Harriet is what made it real and officially started the journey. 
As I started to tell more people, I got a lot of different reactions varying from, "that is such a wonderful thing to do, you're going to look great!" to "Oh no, why would you do that? You have such nice hair!" 
However, the main question that people asked was, "Since you have enough hair, why don't you just cut it and donate it?" I'll admit that that's a good question and also a very honorable thing to do. Though I'll also admit that making a wig out of my hair was not my highest priority. I knew that if I shaved my head, I would be able to raise money for childhood cancer research as well as be a strong visual symbol that we stand with the patients in their fight. 
Childhood cancer is an important issue to both Harriet and me. Through our jobs, we have witnessed all the different emotions and struggles that families and patients face throughout their journey of cancer. Each and every day the kids exhibit true bravery, determination and hope. Some of those days are displayed by smiles and laughter, other days are displayed by confusion and tears. 
Regardless of how they are feeling on any particular day, going through treatment for cancer simply isn't something that any child should have to experience or endure in their life. And yet they handle it with impeccable courage and maturity beyond their years. Thinking about all of that, makes shaving my hair just a small sacrifice in the scheme of things. 
A little over a week ago, Harriet and I finally shaved our heads after raising almost $12,000 for childhood cancer research! It's truly been an incredible experience. In fact, I cried a few happy tears when the barber snipped my ponytails off. 
Our dreams to make a difference for kids with cancer became a reality and that was overwhelming in a good way. I was also honored to have a patient help shave my head and that's a memory that I'll always remember. 
Shaving my head for St. Baldrick's is honestly one of the best things I have done thus far in my life. In fact, I've loved it so much that I don't even miss my 20 inches of hair!
Related Posts
Comments
About the Author
Mary Butler is a certified child life specialist at Advocate Children's Hopsital in Oak Lawn. Although born and raised in the southside suburbs of Chicago, she went to school in St. Louis and graduated from SLU in 2013. After graduating, she returned home and has been working at ACH-Oak Lawn since June 2013. She currently is the certified child life specialist for the 4th floor of the hospital - a general inpatient floor that also cares for hematology/oncology patients. In her free time, she likes to spend time with her family, friends, and bulldog. Her hobbies include blogging, reading, pretending to be an amateur makeup/hair stylist, and once again, playing with her beloved bulldog.