Saving lives through organ, tissue donation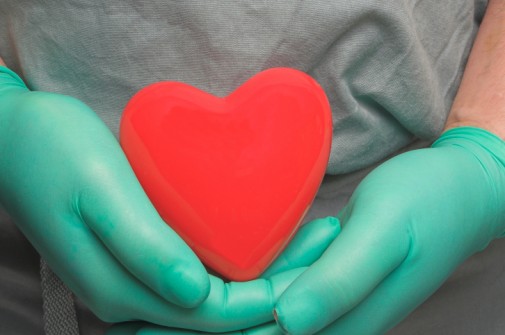 The number of people waiting for a donated organ could fill a large football stadium— twice. And every 10 minutes, someone new is added to the waiting list.
Every day, 18 of them will die waiting, because of the shortage of available organs, says the U.S. Dept. of Health and Human Services.
The need for organ and tissue donation is critical year-round, explains Maria Barrionuevo, RN, executive director of heart and vascular service line at Advocate Lutheran General Hospital in Park Ridge, Ill.
"I have worked in critical care all my life, and I have seen families suffering," Barrionuevo says. "It gives some sense of closure to the grieving families and can turn a tragic death into something positive. Their loved one is now a hero who can save many lives."
Becoming a donor
"The law in Illinois around first-person consent allows donors to release the family from the burden of making the donation decision when it is most difficult for them. The donor has already decided for them, which makes it easier," says Barrionuevo, an organ donor herself.
Illinois' Secretary of State Organ/Tissue Donor Program makes it a lot easier to become a donor. The First-Person Consent Organ/Tissue Donor Registry became effective in 2006. The registry allows those 18 and older to confidentially register to donate their organs upon death without needing an additional witness or family consent.
Illinois residents who want to register as organ donors can do so online, over the phone (800.210.2106) or at your nearby Secretary of State facility.
The Gift of Hope Organ & Tissue Donor Network, which also allows donors to register, reports that nearly 6 million people in Illinois have registered as organ and tissue donors with the registry. However, the number of people waiting for donor organs continues to grow.
The state of Wisconsin currently has more than 2,000 people waiting for donated organs, according to the state's Department of Health Services. Wisconsin residents can also register as organ donors through an online form.
Indiana has about 1,500 people on the organ donor list, according to outreach nonprofit Donate Life Indiana. The state of Indiana allows residents ages 13 and older to register online as well.
Talking about organ donation
Although the process to sign up and become a donor is easy, many choose not to become organ donors. Barrionuevo believes the choice stems from how organ donation is perceived: "I think people have misconceptions, and they're afraid. There's misinformation, sometimes from myths and misconceptions from less-than-trustworthy news sources or Hollywood stories, which can distort the truth about the blessing that is organ donation."
According to Donate Life Indiana, some of the most common myths include:
Hospitals won't save organ donors because they'd rather get the organs. The truth is hospitals don't usually have access to the registry. So, they don't know who's a donor.
Family members cannot see the body at an organ donor's funeral. Actually, organ donation does not change the deceased person's appearance.
Rich and famous people waiting for organs are moved to the top of the waiting list. The reality is that medical urgency determines who gets most organs, along with whether there's a match and how long the person needing the organ has been on the waiting list.
The best way to change these misconceptions, Barrionuevo believes, is to spread the word about organ and tissue donation. It's not just about promoting it during Donate to Life Month, but talking about it every day.
How does she get the word out? One of the ways is via email. The signature at the end of her work email says: I am an organ donor. Are you? A humble opportunity to give yourself to others.
She's been so successful at spreading the word that her husband and 23-year-old daughter are already donors. Her son, who will soon turn 18, told Barrionuevo that "he cannot wait until he can put 'donor' on his license."
Living organ donors needed
In addition to deceased organ and tissue donors, living donors are also needed. David Paulaskas decided to become a donor when someone he knew needed a kidney.
"It's funny. I've known him since kindergarten," says Paulaskas, manager of construction at Advocate Lutheran General Hospital. "About seven years ago, he began having issues, and five or six years ago is when I donated a kidney to him."
Paulaskas says the decision was easy, and the process not very difficult. "We talked about it, but I don't know if he ever really asked me," he recalls. "He was going to go on a donor list in hopes to find a match. I said, 'OK, how do you test for that?' I just happened to be a match, and that was it."
The recipient is a paramedic who Paulaskas sees off and on at Advocate Lutheran General.
The gift of life
Organ and tissue donation can be thought of as a gift that benefits not only the recipients, but also the families of those who chose to donate.
Barrionuevo recounts one family's story where a teenager was killed in a tragic car accident. "The parents were completely devastated, and they decided to donate their son's organs," she says. "They felt that he would be proud they made that decision. In the end, they felt comforted by the fact that his life was not in vain, and would be remembered through other people."
"We sometimes don't have the ability to provide a family with a positive health outcome," Barrionuevo explains. "So when a patient passes, organ donation is a positive view of something that is negative and tragic in their lives. It helps them deal with tragedy a little bit better," she says.
Related Posts
Comments
About the Author
health enews staff is a group of experienced writers from our Advocate Aurora Health sites, which also includes freelance or intern writers.