New fit band for kids?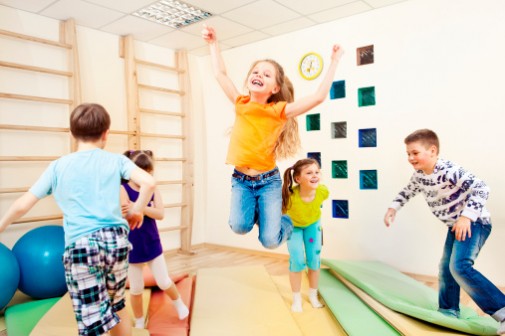 We've all heard and seen the latest popular technologies to track fitness levels and sleep for adults. But now a company is looking to do the same thing for kids.
With childhood obesity rates at an all-time high – nearly one in three U.S. children considered overweight or obese, according to the American Heart Association – a new option for kids to get fit and healthy may be a step in the right direction.
LeapFrog, known for its engaging, educational toys, recently announced the release of its own version of a fit band, called LeapBand.
The band, set to hit the market in the fall of 2014, is designed especially for kids, age four to seven, with activities built in, bright colors and the size is made to wear around their wrist. The band also automatically includes 14 challenge activities pre-programmed and by completing them kids can earn points that give them access to engaging and fun games. The band also boasts features that include parental controls, additional downloadable apps and voice instructions to help pre-readers participate.
"We understand that raising a confident child not only includes making sure they are versed on the ABCs and 123s, but also have the tools to establish healthy habits and stay active," said Dr. Jody Sherman LeVos, manager of LeapFrog's Learning Team, in a statement.
The band is set to be priced around $40 to $50 per unit.
Dr. Rosalind Downing, pediatrician on staff at Advocate Good Samaritan Hospital in Downers Grove, Illinois, says that finding fun and creative ways to keep kids active is always a great idea.
"The gadget sounds like an encouraging product," she says. "But for this young age group it may be difficult to get them to wear the product and not lose it."
Dr. Downing suggests finding easy and cost-effective ways for parents to help their kids be active.
"After dinner, parents can take some time to challenge kids with fitness activities, like a race or jumping jacks," she says.
Dr. Aaron Traeger, pediatrician with Advocate Medical Group in Normal, Illinois, agrees the product seems like a neat idea.
"Studies have shown that 'active' video games do a nice job of increasing kids activity levels, so I would hope that this would do the same, as this is something that they wear all the time," he says. "I also hope that it does not become a distraction throughout the day."
Related Posts
Comments
About the Author
Sarah Scroggins, health enews contributor, is the director of social media at Advocate Aurora Health. She has a BA and MA in Communications. When not on social media, she loves reading a good book (or audiobook), watching the latest Netflix series and teaching a college night class.