"When are you having kids?"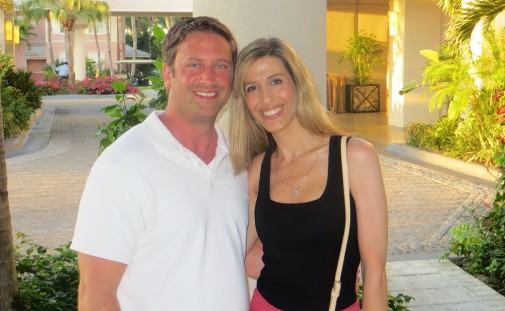 I have written in a previous blog about what not to say to a cancer patient and I want to point out a common question.
Anyone who has been married for more than an hour has heard the common question "So, when are you having kids?"
Well that question becomes even more annoying when you're a breast cancer survivor.
Of course my family and friends are very well aware that this is not a possibility for us at this time and rarely ask. Believe it or not, I'm referring to a stranger.
This is a person who doesn't know my husband or me—or anything about our story. We were recently on vacation and met a very nice couple with their two children. I have a decent size tattoo that is clearly a breast cancer ribbon with the word "survivor" below it.
This was visible when the inevitable question was asked, "Do you have kids?" Let me clarify, the question does not bother me. I completely understand the curiosity when you know a couple is married whether or not they have kids. I get it.
However, what bothers me is the response to my answer. "No, we do not," I said. "Ohhhh, really, why not?" she asked clearly confused by my response.
To me, this is where the line has been crossed. No longer was she being curious, now she was being intrusive. She has no idea what I have been through. For all she knows, we have been trying for years and have not been able to get pregnant. Or maybe we have suffered multiple miscarriages. Or maybe we don't want kids (I know, very hard for some people to imagine, but guess what, those people do exist and it's ok to choose not to have kids.) None of these things are true for us, but my point is, this woman did not know that.
I figured my next response would end this conversation. "I'm a breast cancer survivor, and unfortunately, cannot have kids right now," I said pretty convinced she would move on to the next subject. Of course she was a little taken back. I could see her trying to calculate my age in her mind, compared to her age. "Oh, I'm so sorry. I had no idea that breast cancer could prevent you from having kids."
I'm silent for a minute because I'm trying to think before I speak. I'm offended and because I'm offended, I can often say things that might not be nice. "I'm on a certain medication that prevents us from having children at this time," I said hoping the interrogation would stop. She was satisfied with that, and moved onto something else.
I have a confession; I was this woman at one time. Asking invasive questions thinking there was absolutely nothing wrong with it. I just wanted to know, what's wrong with that? Well, I learned there is a lot wrong with that. It took me getting cancer to understand that just because someone wants to know doesn't mean they HAVE to know, or have the right to know. Boundaries; we all need them and we all should respect them.
Related Posts
Comments
About the Author
Jeannine Canino Bieda has worked in the Options industry for the last 14 years and cannot imagine doing anything else; she enjoys all the craziness, the good, the bad & the ugly! She is a breast cancer survivor. She is married to the love of her life and does not have any children but hopefully that will change one day. She is a proud Southsider but lives in Evanston now because it's where her husband is from; she learned quickly, you can take the girl out of the Southside but you can't take the Southside out of the girl! She is highly addicted to reality shows & gossip magazines and is not ashamed of it.