How effective are hand sanitizers in schools?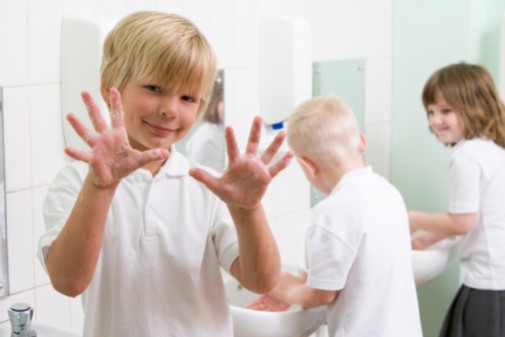 Back to school doesn't just mean new school supplies, new classes and new teachers. It also means that your child is spending a lot of time in close quarters with other students — an ideal environment for germs to spread.
A new study finds that hand sanitizers don't help. Researchers in New Zealand found that absentee rates from illness were no different in students who used alcohol-based sanitizer than in those who stuck to soap and water.
The study centered on 68 primary schools, involving about 2,400 students ages 5 to 11. All students were given a 30-minute hygiene lesson. Then, half of the schools were placed in a control group where children washed their hands with soap and water. The schools in the intervention group did the same, but were also asked to use classroom hand sanitizers when they coughed or sneezed, and before meals.
When students were absent, the research team called their caregivers, keeping track of the type and length of illness during 20 weeks of school.
Absentee rates between the two groups were virtually the same, the study authors found. In addition, use of a hand sanitizer did not reduce the number of absences due to a specific illness, the length of illness and absence from school, or the number of times that another family member became ill.
The study was published this month in PLOS Medicine, a journal of the Public Library of Science.
"These findings suggest that, in high-income countries where clean water for hand-washing is readily available, putting resources into extra hand hygiene by providing hand sanitizer in classrooms may not be an effective way to break the child-to-child transmission of infectious diseases," an accompanying editorial in the journal concluded.
Doctors say the lesson on how to stay healthy this year is the same as it's been for decades: Wash your hands. And school is the perfect place to teach that.
"By partnering with schools, we can make an impact directly in children's lives at a young age, that then can be fostered as they grow older. That includes healthy eating habits, the importance of physical activity and healthy hygiene," said Dr. Deborah Winiger, a family medicine at Advocate Condell Medical Center in Libertyville, Ill.
Below are five hand-washing steps from the CDC website:
Wet your hands with clean, running water (warm or cold).
Lather your hands soap by rubbing them together. Be sure to lather the backs of your hands, between your fingers, and under your nails.
Scrub your hands for at least 20 seconds. Remember, if you need help with timing to make sure you get the recommended 20 second scrub, the CDC recommends singing the "Happy Birthday" song two times through.
Rinse your hands well under clean, running water.
Dry your hands using a clean towel or air dry them.
Related Posts
Comments
About the Author
health enews staff is a group of experienced writers from our Advocate Aurora Health sites, which also includes freelance or intern writers.