Living with vitiligo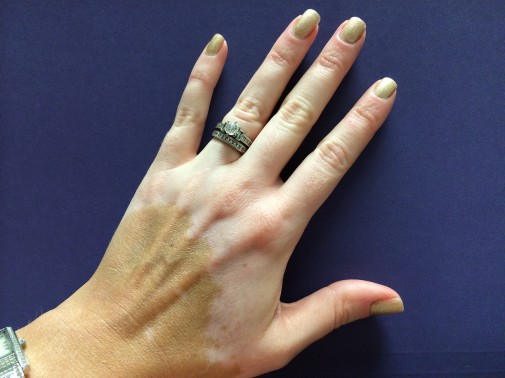 Of mainly Polish-, Irish- and Anglo-American descent, I come from a long line of pale people. I burn if I don't slap on enough sunscreen and sometimes even when I do. Since my late 20s, I've grown even whiter – or, at least parts of me have. That's because of vitiligo, a disease that causes patches of skin to lose their pigment.
Vitiligo occurs when melanin-forming cells die or stop producing melanin — the pigment that produces color in your skin, hair and eyes. In my case, this has resulted in patches of light skin concentrated around my hands, elbows, knees and ankles. It's not painful, harmful or contagious.
Globally, vitiligo affects just one to two percent of the population, according to some estimates. Michael Jackson had it. Canadian model Chantelle Young, a contestant this year on "America's Next Top Model," openly talks about her experience with vitiligo. It's more obvious in people with dark-colored skin than fair-skinned people like me, but mine is most noticeable in the summer because of the contrast between the majority of my skin, which burns and tans normally, and the smaller patches of my skin affected by vitiligo, which quickly burn to hot pink and then revert to white.
There are some treatments that can re-color the skin, but there's no cure. When I was diagnosed by a dermatologist several years ago, I was prescribed a topical corticosteroid cream that I rubbed on a few times a day, but it felt greasy and proved too difficult to keep applying to my hands because I washed them so often.
Also, I didn't notice any results after a few weeks; my doctor told me it could take months to see improvement and it was possible that the areas wouldn't re-pigment at all. Light therapy treatments, which I did not try, require an even greater time commitment and are just as likely to be ineffective. None of this was reassuring to me, and I also worried about the long-term effects, especially because I was trying to get pregnant at the time.
Half the people who have vitiligo develop it before age 20; most develop it before they're 40 years old. I was in my 20s when I noticed it first on my hands shortly after I spilled a harsh chemical on them while cleaning an antique chandelier at my house; I had removed my safety gloves to clean a hard-to-reach area. There's no consensus on why vitiligo occurs, but stress, traumatic events, injury or even severe sunburns can trigger or exacerbate vitiligo, according to some theories. That's perhaps why mine showed up first on my hands, which were exposed to the cleaning agent.
Over the years, my affected areas have gotten larger and new splotches on my chest, stomach and hips have appeared. My vitiligo is most concentrated and noticeable on my hands. Most of the time, I find myself hiding my hands to avoid wayward glances or outright questions. I don't want to draw attention to them.
But another part of me declares that I have nothing to hide – that it is, in fact, our differences that make us unique individuals. That's the lesson I want to teach my two children: We are all beautiful, each in our own ways. We shouldn't spend so much energy trying to conceal our imperfections because none of us are perfect. I'm still trying to accept that myself.
Here's hoping I can cling to that truth if my vitiligo spreads to my lips, cheeks, eyes or anywhere else on my face. I'm not a vitiligo spokesmodel by any means, but as someone affected by vitiligo and particularly as someone who works in health care, I can help educate people about this rare disorder. That's part of the reason why I wrote this column.
Vitiligo doesn't define me but it is a part of me and I have nothing to be ashamed of.
Related Posts
Comments
About the Author
Lisa Parro, health enews contributor, is manager of content strategy for Advocate Aurora Health. A former journalist, Lisa has been in health care public relations since 2008 and has a master's degree in journalism from Northwestern University. She and her family live in Chicago's western suburbs.