Should moms-to-be worry about their soap?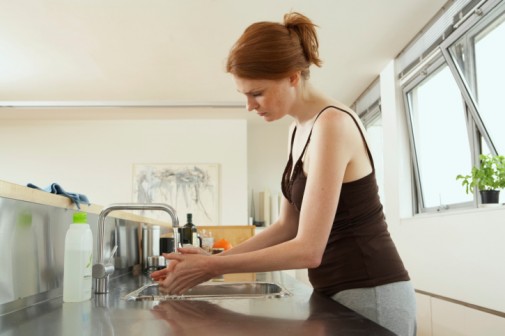 In the midst of an ongoing debate as to whether the benefits of some chemicals used in antibacterial products outweigh the risks, scientists report that women and their unborn babies may face health risks from the usage of everyday products that contain antimicrobial compounds.
"We looked at exposure of pregnant women and their fetuses to triclosan and triclocarbon, two of the most commonly used germ-killers in soaps and other everyday products," said Benny Pycke, PhD, researcher from Arizona State University, in a statement. "We found triclosan in all of the urine samples from the pregnant women that we screened. We also detected it in about half of the umbilical cord blood samples we took, which means it transfers to the fetuses."
According to the U.S. Food and Drug Administration (FDA), triclosan is used to reduce and prevent bacterial contamination in everyday products ranging from kitchenware to toothpaste. It has been shown to alter hormonal processes in animals but has not been proven hazardous to humans. The FDA and the EPA are collaborating on work to determine whether or not the use of triclosan should be regulated.
The human body is capable of flushing out such chemicals, however the effects of consistent presence in the body is unknown. In a study conducted at the State University of New York, Laura Greer, PhD, linked the use of the antimicrobial butyl paraben (commonly used in cosmetics) to shorter newborn lengths.
Antibacterial compounds are part of the growing health concern of antibiotic resistance.
Donna Currie, the director of clinical outcomes at Advocate Health Care in Downers Grove, Ill., notes that according to the FDA, there is not enough evidence to discourage consumers to stay away from antimicrobial products, nor is there evidence that the antibacterial provides any more benefit to washing in a household setting than regular soap and water.
But, she says that in general avoiding chemicals, where possible and especially during pregnancy is a good idea.
"There is concern that frequent use of antibacterial products will cause bacteria to develop an increased tolerance to the chemical, decreasing its effectiveness in settings where it is truly needed, such as in hospitals," Currie says.
Related Posts
Comments
About the Author
Lynn Hutley, health enews contributor, is coordinator of public affairs and marketing at Advocate BroMenn Medical Center and Advocate Eureka Hospital in central Illinois. Having grown up in a family-owned drug store, it is no surprise that Lynn has spent almost 18 years working in the health care industry. She has a degree in human resources management from Illinois State University and is always ready to tackle Trivia Night.