Can exercise help reduce risk of breast cancer?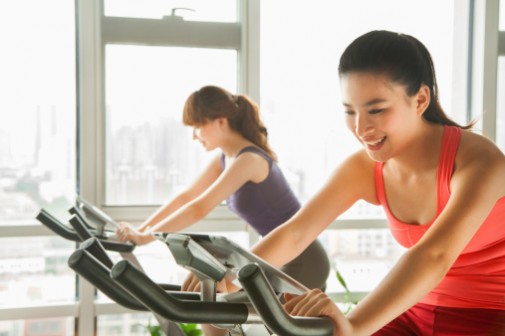 Many well-known benefits of exercise include weight loss, cardiovascular health and increased muscle mass. Now, according to one study from France presented at the 9th European Breast Cancer Conference (EBCC-9), preventing breast cancer can be added to this list.
According to the study, women with the highest level of physical activity reduced their risk of breast cancer by 12 percent, compared with the least active women. But, even women who weren't as active saw reduced risk too, showing a little exercise was better at preventing breast cancer than none at all.
Notably, the research shows that the benefits of regular exercise apply no matter the woman's age, weight or geographic location.
"These results are wonderful news for all women, no matter how old they are, what kind of shape they start in, or where they live," says Dr. Roseanne Krinski, a surgeon specializing in breast surgery at Advocate South Suburban Hospital in Hazel Crest, Ill. "Exercise provides an easy and inexpensive way for women to take greater control over breast health and overall wellness."
These findings build on previous scientific evidence that physical exercise may protect people from certain cancers, including colon cancer, uterine cancer and lung cancer.  Many experts agree that the cancer-fighting benefits may come from weight reduction.  But, the results from this particular study are mostly independent of body mass index (BMI) so researchers believe the preventative effects against breast cancer appear to be due to something other than keeping weight down.
Dr. Krinski says that not much is known about why exercise reduces the risk for breast cancer. She says that some experts think there is a relationship between physical activity's effect on hormones and inflammation, but research is ongoing.
The French study was the result of examining the results of 37 studies, including the information on more than four million women, published from 1987 to 2013.  According to the study's lead investigator, their research was comprehensive, including all the studies looking at the relationship between physical exercise and breast cancer risk that have been published to date.
"Every day there is more evidence that living an active life helps you to live a healthy life," Dr. Krinski says. "Many women are touched by breast cancer, and it's exciting to know that one of the benefits of regular exercise is the prevention of this devastating disease."
Dr. Krinski stresses that wholesale lifestyle changes are not needed to see positive effects on overall health and wellness.
"Something as simple as a brisk daily walk for 30 minutes can have a significant positive impact," she says. "Combine this with wise food choices and you can only improve your health."
For more information on breast health, visit StoriesoftheGirls.com.
Related Posts
Comments
About the Author
Nate Llewellyn, health enews contributor, is a manager of public affairs at Advocate Medical Group. Nate began his career as a journalist and builds daily on his nearly 20 years of writing experience. He spends most of his free time following his wife to their two sons' various activities.