Best ways to protect your vision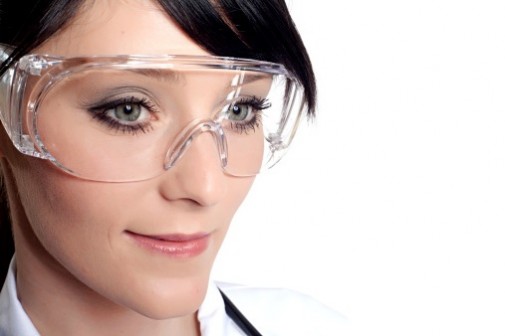 In many places, the transition to autumn brings some of the year's most spectacular scenery. The changing colors of the leaves are truly a beautiful sight to behold.
That's why the American Academy of Ophthalmology (AAO) has picked October as the perfect time to remind people about the importance of protecting their vision, designating October as Eye Injury Prevention Month.
Dr. Samuel Multack, an ophthalmologist on staff at Advocate South Suburban Hospital in Hazel Crest, Ill., says that more than 2.5 million people suffer from eye injuries each year, and about 90 percent of these injuries could have been prevented if the individual was taking proper precautions, such as wearing the appropriate protective eyewear.
When we consider our eyes and eyesight, a pound of prevention is truly worth at least a pound of cure," says Dr. Multack. "Preventing injuries to our eyes is the number one way to protect our vision."
Most people believe that eye injuries are most common at factories and construction sites, but Multack points to AAO research that shows nearly half of all eye injuries occur in the home.  According to the AAO and the American Society of Ocular Trauma, more than 40 percent of eye injuries were caused by projects and activities such as home repairs, yard work, cleaning and cooking. The organizations' statistics also show that more than one-third of injuries in the home occurred in living areas such as the kitchen, bedroom, bathroom, living or family room.
Dr. Multack offers some tips to help prevent these types of eye-related injuries:
When using chemicals to clean, read the instructions and labels carefully, work in a well-ventilated area and make sure to point spray nozzles away from your body.
Before using a lawn mower, power trimmer or edger, put on protective eyewear and check for debris. Stones, twigs and other items can become dangerous projectiles, potentially injuring your eyes.
Keep protective goggles in the trunk of your car to use for auto emergencies and everyday repairs. Battery acid, sparks and debris from damaged or improperly jump-started auto batteries can severely damage your eyes.
Sports-related eye injuries are also very common, especially among children. Children should wear sports eye protectors made with polycarbonate lenses for baseball, basketball, football, racquet sports, soccer, hockey, lacrosse and paintball.
Dr. Multack says that parents should take similar precautions to ensure their children's eye safety.   Each year thousands of children sustain eye damage or even blindness, from accidents at home, at play or in the car. He says simple things to remember are:
Practice safe use of common items that can cause serious eye injury including paper clips, pencils, scissors, bungee cords, wire coat hangers and rubber bands.
Only purchase age-appropriate toys and avoid projectile toys such as darts, bows and arrows, and missile-firing toys.
For young children, use safety gates at the top and bottom of stairs, pad or cushion sharp corners and put locks on all cabinets and drawers that they can reach.
On the road, make sure children are properly secured in baby carriers and child safety seats and that the seat and shoulder belts fit well. Children age 12 and younger should never ride in the front seat. Store loose items in the trunk or secured on the floor, as any loose object can become a dangerous projectile in a crash.
If you have suffered an eye injury, it is important to have an ophthalmologist or other medical professional examine the eye as soon as possible, even if the injury seems minor. Talk to your doctor about how to protect yourself from long-term eye health problems associated with eye injury.
Related Posts
Comments
About the Author
Nate Llewellyn, health enews contributor, is a manager of public affairs at Advocate Medical Group. Nate began his career as a journalist and builds daily on his nearly 20 years of writing experience. He spends most of his free time following his wife to their two sons' various activities.