True or False: Wearing a bra can increase your breast cancer risk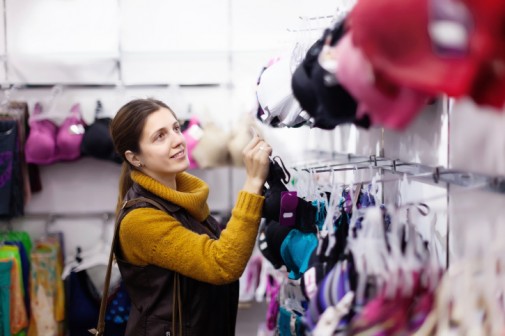 You might have heard that wearing a bra may increase your risk of breast cancer, but such claims have been widely debunked as unscientific. Although there is not a great number of credible scientific studies addressing this issue, the existing studies show that neither the type of bra you wear nor the tightness of your undergarments or other clothing has any connection to breast cancer risk.
A recent study published by the American Association for Cancer Research had the goal to evaluate the relationship between various bra-wearing habits and breast cancer risk among postmenopausal women. The scientists compared women diagnosed with cancer, against those who did not have it. Information on bra-wearing habits and other breast cancer risk factors were collected from study participants through in-person interviews.
No aspect of bra-wearing, including bra cup size, average number of hours/day worn, wearing a bra with an underwire, or age first began regularly wearing a bra, was associated with breast cancer risk. The study results did not support an association between bra-wearing and increased breast cancer risk among postmenopausal women.
"There are so many myths associated with breast cancer and this is one of them," says Dr. Sarah Friedewald, co-medical director of the Caldwell Breast Center at Advocate Lutheran General Hospital in Park Ridge, Ill. "Although there is no sure way to prevent breast cancer, a healthy, active lifestyle, early detection and prompt treatment offer you the best chances to beat the disease."
Dr. Friedewald, who is a nationally-renowned expert and the lead author of a recent research study on 3D mammograms, also recommends that all women should get a 3D mammogram if they can. The Caldwell Breast Center at Lutheran General Hospital was the first in the Midwest to purchase 3D mammography.
"All our patients have the opportunity to receive 3D exams because we believe the technology is saving lives," Dr. Friedewald says.
Learn more about breast health and join the conversation at StoriesOfTheGirls.com.
Related Posts
Comments
About the Author
Sonja Vojcic, health enews contributor, is a marketing manager at Advocate Health Care in Downers Grove, Ill. She has several years of international public relations and marketing experience with a Master's degree in Communications from DePaul University. In her free time, Sonja enjoys spending time with her family, travelling, and keeping up with the latest health news and fashion trends.