Menopause relief? Thank the kids!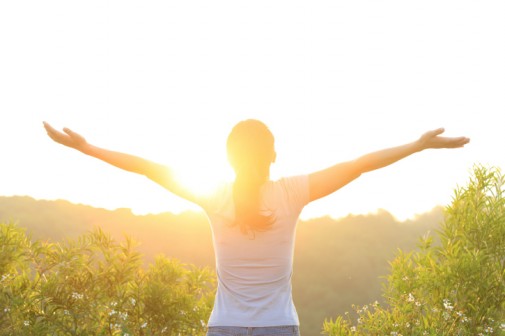 Love and happiness may not be the only benefits of being around children and grandchildren. Results of a new study suggest that young children may help relieve menopause symptoms for some women.
The findings, published in the journal Menopause, indicated that women in rapid menopause due to surgical removal of their ovaries were less likely to suffer menopausal symptoms like hot flashes and night sweats if they had young children at home.
The researchers, from The Kinsey Institute and the Fred Hutchinson Cancer Research Center, studied 117 women who underwent surgery to reduce their risk of gynecologic cancers and measured their hot flashes and night sweats prior to surgery and then two months, six months and 12 months after the operation.
"These are intriguing findings," said study author, Tierney Lorenz, in a press release. "For women who were menopausal when our study began, those with young children at home actually showed more symptoms of hot flashes. But, the women who underwent rapid menopause because of the surgical removal of their ovaries showed a dramatic reduction of symptoms."
Dr. Barbara Soltes, reproductive endocrinologist and certified menopause practitioner at Advocate Christ Medical Center in Oak Lawn, Ill., says the correlation between stress levels and hot flashes could be influenced by young children at home.
"The number one trigger of hot flashes is stress," Dr. Soltes says. "When women spend more time with children or grandchildren, they feel happier and more youthful.  These feelings can help decrease their level of stress hormone, leading to fewer hot flashes."
For women who do not have children at home to help reduce their stress levels, Dr. Soltes offers the following tips and available treatment options for alleviating menopausal symptoms:
Nutrition: People who eat healthier and drink less alcohol experience fewer hot flashes. Avoid triggers like citrus and spicy foods that can bring on symptoms.
Exercise: Women who exercise regularly have fewer hot flashes.
Acupuncture: This alternative therapy has been proven to reduce the severity of menopause symptoms
Non-hormonal treatments: When prescribed in lower doses, medicines typically used to treat hypertension or depression are effective in reducing hot flashes. Hormone replacement therapy is no longer the number one way to treat symptoms of menopause.
Over-the-counter supplements: Black cohosh and i-cool® can provide women some relief from symptoms
"Women struggling to control their menopausal symptoms should consider seeing a certified menopause practitioner who has an advanced competency in the field of menopause," Dr. Soltes says.
Related Posts
Comments
About the Author
Julie Nakis, health enews contributor, is manager of public affairs at Advocate Children's Hospital. She earned her BA in communications from the University of Iowa – Go Hawkeyes! In her free time, she enjoys spending time with friends and family, exploring the city and cheering on the Chicago Cubs and Blackhawks.