How to add 10 years to your life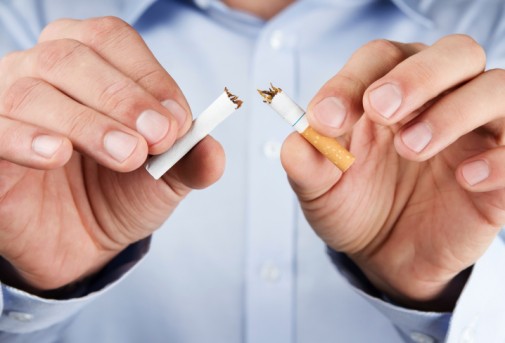 If you could do something that would add 10 years to your life, would you do it?
If you answered yes and you're a smoker, then the American Cancer Society has a message for you: Quit smoking.
Each year the organization marks the Great American Smokeout on the third Thursday in November. This year it falls on Nov. 20. Smokers are encouraged to use the date to make a plan to quit, or to plan in advance and quit smoking that day.
The society reports that tobacco use remains the single largest preventable cause of disease and premature death in the United States, yet about 42 million Americans – almost 1 in every 5 adults – smoke cigarettes.
For some smokers, motivation to kick the habit comes in the form of statistics from the Centers for Disease Control and Prevention (CDC). The numbers can be jarring. For example:
Worldwide, tobacco use causes more than five million deaths per year, and current trends show that tobacco use will cause more than eight million deaths annually by 2030.
On average, smokers die 10 years earlier than nonsmokers.
Cigarette smoking is responsible for more than 480,000 deaths per year in the United States, including an estimated 41,000 deaths resulting from secondhand smoke This is about one in five deaths annually, or 1,300 deaths every day.
That's the equivalent of seven 185-passenger jets crashing and killing all aboard every day for a whole year.
If smoking persists at the current rate among youth in this country, 5.6 million of today's Americans younger than 18 are projected to die prematurely from a smoking-related illness, according to the CDC. This represents about one in every 13 Americans aged 17 years or younger who are alive today. 
Some experts find the statistics related to youth smoking most troubling. Results of a survey reported last week in the CDC's Morbidity and Mortality Weekly Report found that one-fifth of the nation's high school students say they have smoked in the past 30 days, and nearly half of them admit to having experimented with smoking at least once in their lives. The data was collected through the 2013 National Youth Tobacco Survey, which was distributed to 18,406 students in public and private high schools and middle schools across the country. It also revealed that 6.5 percent of middle school students have tried a tobacco product at least once.
Lung cancer and lung diseases are among the dangers of smoking.
"Smoking is a major health problem in our country," said Dr. Michael Cochran, director of medical oncology for Advocate Condell Medical Center in Libertyville, Ill.
Cochran said the benefits of quitting smoking include reducing the risk of lung cancer, chronic obstructive pulmonary disease (COPD) and chronic lung disease, as well as reducing the risk of harming others through secondhand smoke.
Long-time smokers often question the benefits of quitting, but The American Cancer Society maintains that people who kick the habit could experience health improvements almost immediately.
Among the benefits are:
After 20 minutes, your heart rate and blood pressure drop.
After 12 hours, the carbon monoxide level in your blood returns to normal.
After two weeks to three months, your circulation improves and your lung function increases.
After one to nine months, coughing and shortness of breath decrease; cilia start to regain normal function in the lungs, increasing the ability to handle mucus, clean the lungs and reduce the risk of infection.
After one year, the excess risk of coronary artery disease is half of that of a continuing smoker's.
After five years, the risk of cancer of the mouth, throat, esophagus and bladder are cut in half. Cervical cancer risk falls to that of a non-smoker. Stroke risk can fall to that of a non-smoker after two to five years.
After 10 years, the risk of dying from lung cancer is about half that of a person who is still smoking. The risk of cancer of the larynx (voice box) and pancreas decreases.
After 15 years, the risk of coronary heart disease is that of a non-smoker's.
Related Posts
Comments
About the Author
Kathleen Troher, health enews contributor, is manager of public affairs and marketing at Advocate Good Sheperd Hospital in Barrington. She has more than 20 years of journalism experience, with her primary focus in the newspaper and magazine industry. Kathleen graduated from Columbia College in Chicago, earning her degree in journalism with an emphasis on science writing and broadcasting. She loves to travel with her husband, Ross. They share their home with a sweet Samoyed named Maggie.