Fast food portion sizes aren't getting smaller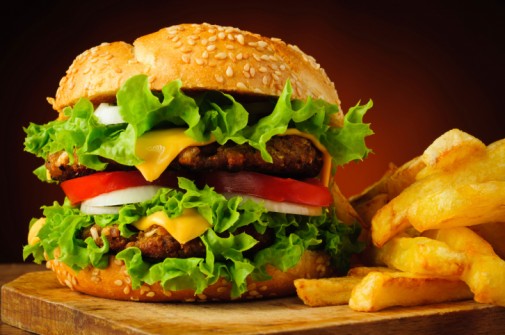 Despite public health campaigns, fast food sales are not going down and portion sizes are not becoming smaller or healthier, contributing to our epidemic of obesity. The good news is portion sizes are not getting bigger, although sometimes it seems otherwise.
Two new reports from researchers at Tufts University published in Preventing Chronic Disease, a journal of the Centers for Disease Control and Prevention, show little change in fast food portion sizes and product formulation between 1996 and 2013.
The researchers analyzed the calorie, sodium, saturated fat and trans-fat content of popular menu items, such as fries, cheeseburgers, grilled chicken sandwiches, and regular cola, served at three national fast-food chains. They found that average calories, sodium, and saturated fat stayed relatively constant, albeit at high levels. The notable exception was fries, which decreased first in saturated fat in 2001 and then trans-fat, likely due to changes to the frying fat and legislative efforts.
"There is a perception that restaurants have significantly expanded their portion sizes over the years, but the fast food we assessed does not appear to be part of that trend," said study leader, Alice H. Lichtenstein.
"For example, among the three chains, calories in a large cheeseburger meal, with fries and a regular cola beverage, ranged from 1144 to 1757 over the years and among restaurants, representing 57 percent to 88 percent out of the approximately 2000 calories most people should eat per day," Lichtenstein said. "That does not leave much wiggle room for the rest of the day."
"Portion sizes may not have changed, but the number of times people go out to eat has changed dramatically," says Dr. Alan Brown, director of the division of cardiology at Advocate Lutheran General Hospital in Park Ridge, Ill. "In the 60s and 70s, people went out to eat maybe once a week, but now both adults and kids eat fast food almost every day. Parents are working long hours and a lot of times it's quicker to buy fast food instead of making a meal at home."
Dr. Matthew Smiley, Advocate Medical Group pediatrician on staff at Advocate Children's Hospital – Park Ridge, agrees with Dr. Brown and says that families should limit their fast food intake as much as possible, and really get back to eating more meals together at home at the kitchen table. "Family meals are associated with a higher-quality diet and with lower obesity prevalence," says Dr. Smiley.
"Parents should also pay close attention to portion sizes for their children's meals," continues Dr. Smiley.  "Portion size and daily calorie intake varies by age, and these recommendations can be found on the USDA website ChooseMyPlate.gov,​ which also provides a wealth of information regarding healthy eating tips, physical activity and weight management."
To prevent accelerating heart disease, Dr. Brown recommends:
Limit fast food meals to once a week and discourage your children to buy fast food more than once or twice a week;
Pack a lunch for yourself and your children; lunch should include fruits, vegetables, and other healthy options high in fiber and low in saturated fat;
Increase your physical activity;
Minimize carbonated beverages and maximize water intake – water will minimize hunger and keep you full; if you don't like drinking plain water, an alternative would be flavored water that's low in calories;
Dr. Smiley also emphasizes that families should try to choose water or non-fat milk instead of sugar-sweetened beverages, whether at home, school or at a restaurant.  "Excess consumption of sugar-sweetened beverages is one of the biggest contributors to the rise in pediatric obesity in the United States.  Children over the age of 2 years should drink 1% or skim milk, not 2% or whole milk.  Sugar-sweetened beverages add extra "empty calories" to a child's diet and contribute to excess weight gain. Remember, "water first for thirst!"
Related Posts
Comments
About the Author
Sonja Vojcic, health enews contributor, is a marketing manager at Advocate Health Care in Downers Grove, Ill. She has several years of international public relations and marketing experience with a Master's degree in Communications from DePaul University. In her free time, Sonja enjoys spending time with her family, travelling, and keeping up with the latest health news and fashion trends.