Active pregnant moms lead to healthier babies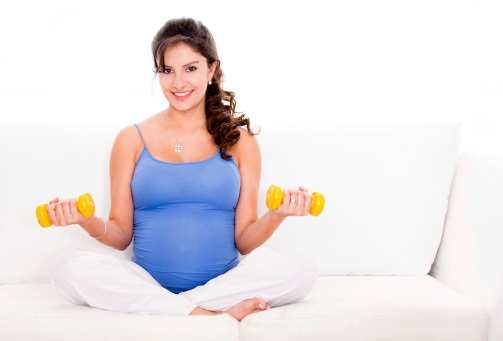 A new study suggests that exercising while pregnant could lower a child's chances of higher blood pressure, a key factor in cardiovascular health.
The Michigan State University study followed more than 50 women over a five-year period and tracked physical activity throughout pregnancy and post-pregnancy. The results, lower blood pressure in their children, especially for those active during their third trimester.
"There is a small amount of information linking the physical habits of pregnant women with later cardiac health in the offspring," says Dr. Solomon Secemsky, an Advocate Heart Institute cardiologist on staff at Elgin-based Advocate Sherman Hospital. "I would like to believe that the healthier the mother, the more likely the child will be at a lower risk for cardiac disease, and this study puts us closer to proving that."
The findings go against the long-standing belief that babies born with low birth weight are more likely to have high blood pressure later in life.
"We looked at a range of normal birth weight babies, some falling at the lower end of the scale, and surprisingly we found that this lower birth weight and higher blood pressure relationship in these offspring is not supported if the women were physically active," says James Pivarnik, lead author and kinesiology professor at MSU, in a news release. "The connection was disrupted, indicating that exercise may in some way alter cardiovascular risk that occurs in utero."
Researchers also discovered that the children with mothers who exercised at recommended or higher activity levels displayed significantly lower systolic blood pressure at eight to 10 years old.
"There is much more information linking maternal health to healthier fetal outcomes and contrarily, worse outcomes in children of obese, diabetic, hypertensive or deconditioned mothers," Dr. Secemsky says. "Understanding the mother's health will help us better understand the child's health later in life."
About 78 million American adults have been diagnosed with high blood pressure, and the rate among children is on the rise, according to the American Heart Association. If not treated properly, high blood pressure, or hypertension, can damage the heart and kidneys, among other areas.
Experts agree that if caught early enough, kids can lead an active, normal life.
Staying active by running or walking while pregnant has also shown to reduce backaches, prevent gestational diabetes, increase energy, improve mood and posture, and physically prepare an expecting mother's ability for labor.
Related Posts
Comments
About the Author
health enews staff is a group of experienced writers from our Advocate Aurora Health sites, which also includes freelance or intern writers.