How a medicine ball can improve balance in older adults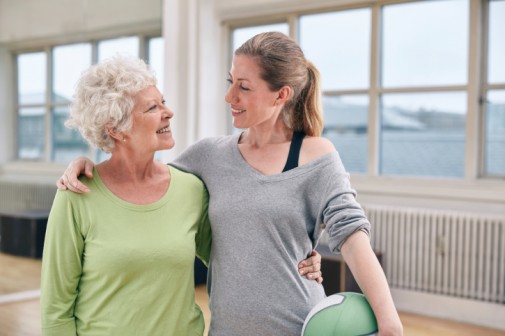 The winter weather seems to heighten concern about falling, especially among older adults. Each year, one out of three adults, age 65 and older, experience a fall, according to the Centers for Disease Control and Prevention.
A study at the University of Illinois at Chicago (UIC) suggests that catching a weighted medicine ball may be the trick to improving balance and preventing falls.
As people age, they limit or even lose their ability to keep their balance, making them less stable and more prone to falls, according to Alexander Aruin, professor of physical therapy at UIC, in a press release.
In order to prevent falling, Aruin says the brain uses two strategies. One is expectancy of a collision or impact, and the second is "corrective," in which the brain tells the body to physically maintain balance.
During the research, Aruin and his colleagues conducted two studies. One where they had healthy, young adults stand and catch a medicine ball, while the second study looked at healthy, older adults doing the same activity.
Before and after the short training session, researchers measured the use of leg and trunk muscles in helping the body remain stable.
The results showed "training-related improvements" in both the young adult and older adult groups. The older adults improved overall in the training and in activities not part of the training.
"There was a transfer effect," Aruin said. "It tells us that – potentially – what people learn in the training might be helpful with other activities."
Dr. William Rhoades, a geriatrician with Advocate Medical Group in Park Ridge, Ill., says that these study results are not surprising.
"Any exercise helps with balance and preventing falls, even weight lifting."
He also offers a few more tips to prevent falls, including walking for 20 to 30 minutes at least four times a week and getting enough Vitamin D.
"Walking has advantages for not only balance but also strengthens muscles of the hips and legs which can help prevent serious injury in a fall," Dr. Rhoades says. "As with anything practice helps and continuing to walk is practice for walking without falling."
During the winter months, walking may seem tricky with extreme cold weather so Dr. Rhoades suggests treadmill walking at a health club, walking in malls or even in the building you reside in.
Dr. Rhoades also says it's important to keep an eye on Vitamin D levels, which can be found from diet and the sun.
"In Illinois, especially in the winter, most people do not get enough Vitamin D. Having your doctor check your levels can help to know whether supplementation is necessary," Dr. Rhoades says. "Taking Vitamin D3 1000 units daily will not hurt anybody and has been shown to reduce falls and fractures and improve balance."
Related Posts
Comments
About the Author
health enews staff is a group of experienced writers from our Advocate Aurora Health sites, which also includes freelance or intern writers.