Powerful acne fighting tips for your teen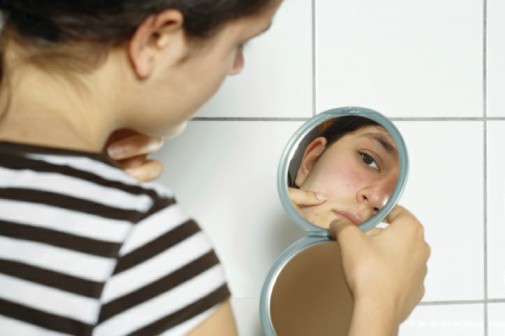 Acne, often referred to as pimples or zits, is very common among teenagers.  Approximately 80 percent of people get acne, especially teens, says the National Institute of Arthritis, Musculoskeletal and Skin Diseases. The most common places for acne are on the face, back, chest, neck and shoulders.
So, what is acne?
Acne begins when the pores in the skin become clogged, leading to swelling. When bacteria are present, it can lead to inflammation. There are different types of acne, including
Comedones, which are blackheads and whiteheads
Pustules, which look like white heads but are actually signs of bacterial infection
Cysts, which are sac-like bumps that are filled with fluid
Acne is categorized as mild, moderate, or severe. Contrary to popular belief, it does not come from being dirty or from certain foods and drinks.  However, certain factors can lead to worsening acne like hormonal changes from menstruation, puberty or pregnancy.  Also, genetics and greasy makeup can aggravate acne.  Wearing helmets, hats, backpacks and tight collars may also make it worse.
What are some ways your teen can reduce acne?
1. Try not to pop or pick at pimples. This can make the acne worse and lead to scarring.
2. Don't scrub your face hard with washcloths, loofahs or sponges.  Also, try not to rest your head on your hand or rub your face with your hands too often.
3. Cleanse your skin gently with your hands and mild soap twice daily and after hard exercise.
4. Only use fresh, sharp razors and shave gently. Select oil-free, noncomedogenic (non- pore clogging) types of makeup.
5. Over-the-counter treatments that contain benzoyl peroxide or salicylic acid can be quite effective for mild cases of acne. Using one product line is important. This ensures that the various steps do not interfere with each other and lead to irritation or worsening acne.
When to call your teen's doctor:  
 If your child's acne starts early, such as between infancy and puberty.
If scarring is present.
If over-the-counter treatments have shown no improvement.
If cysts or very painful acne bumps exist.
If your child is experiencing emotional disturbances or struggling with self-esteem.
Almost all cases of acne can be treated effectively.  The goal of treatment is to heal existing lesions, stop new lesions and prevent scars.
Your physician can prescribe an acne regimen specific to the type of acne that includes many topical and oral medications.
Remember, when treating acne, patience is key.  It can take two months to notice improvement after starting an acne treatment regimen.
Related Posts
Comments
About the Author
Andrea Kane, MD, is a pediatrician with Advocate Medical Group, practicing on the campus of Advocate BroMenn Medical Center in Bloomington, Ill.