Seahawk may have his 'wing clipped' for the Super Bowl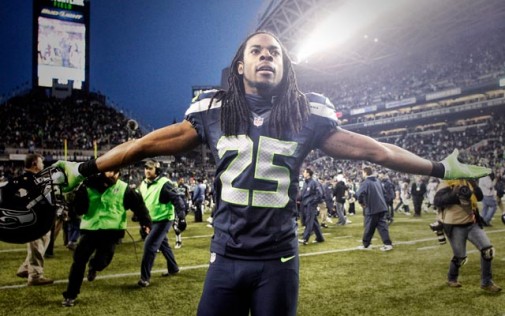 Richard Sherman, defensive back for the defending Super Bowl champion Seattle Seahawks, is known for his exceptional defensive skills and physical play. As a member of the "Legion of Boom" – or the team's defensive backfield – he has 27 interceptions over the past four seasons, more than anyone else in the National Football League.
During the NFC title game against the Green Bay Packers, he strained the ligaments in his elbow while making a tackle near the end of the game. He played in obvious pain and kept his arm locked to his side.
But what are strained elbow ligaments? How serious is this injury?
The elbow is a hinge joint that is made up of the articulation of three bones – the humerus, ulna and radius. The humerus and ulna allow bending and straightening. The radius allows the forearm to spin around in a circle.
These bones are stabilized by a series of ligaments on both the inside of the elbow (medial ligaments) and outside (lateral ligaments). Sherman partially tore, or strained, the ligaments on the inside of the elbow.
These medial ligament are shaped like a fan, and provide stability to the elbow going out to the side with the elbow in a bent position.
With a minor strain, treatment consists of rest, ice, physical therapy, anti-inflammatories and gradual return to activities. A brace is often worn, and it generally takes four to six weeks to heal.
Higher degrees of injuries take longer to heal, and full tears often require surgery and can be associated with numbness or irritation of the ulnar nerve, which causes radiating pain down the ring and small fingers.
Sherman has insisted he will play in the Super Bowl – possibly wearing an arm brace – and given his aggressive play and will-to-win, I am 99-percent sure he will be ready to go after interception 28 by the time the National Anthem is played on Sunday.
Photo courtesy of USATSI. 
Related Posts
Comments
About the Author
Dr. Jeffrey Kazaglis is an orthopedic surgeon on staff at Elgin-based Advocate Sherman Hospital who completed 22 years of military service. Dr. Kazaglis specializes in general orthopedics, fracture care, hand surgery, sports medicine, joint reconstruction and arthroscopic surgery of the hip, knee, ankle, shoulder, elbow and wrist. He lectures extensively on knee and shoulder problems with a focus on sports injuries.