Mom gives back after son's heart surgeries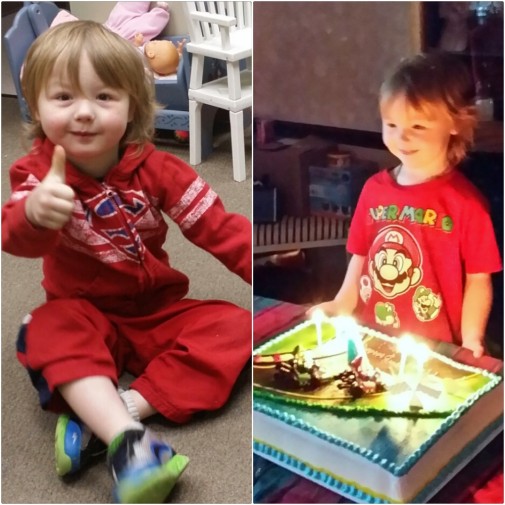 Austin Hokanson, a 4-year-old boy who just learned how to ride a bike, is more comfortable visiting a hospital than most kids his age. That's because Austin has been undergoing treatment for a congenital heart defect at Advocate Children's Hospital in Oak Lawn, Ill., since he was born. He frequently returns either for clinic visits or to accompany his mom as she delivers care bags to other heart patients and families.
Austin's mom, Amanda Hokanson, was 23-weeks pregnant when she and her husband were told that their son had hypoplastic left heart syndrome (HLHS), a severe heart defect that occurs when the left side of the heart – the part responsible for pumping oxygenated blood into the body – is underdeveloped. Children with HLHS typically undergo a series of three open heart surgeries immediately after birth to repair the defect, which usually proves fatal without early intervention.
After the diagnosis, they immediately met with Dr. Michel Ilbawi, chief of pediatric heart surgery at Advocate Heart Institute (AHI), who calmed the soon-to-be parents' nerves by reassuring them that their son would have a good quality life. When Austin was born, he was baptized in the delivery room and then taken directly to the neonatal intensive care unit. He underwent his first heart surgery at only 6-days-old. All three corrective surgeries were completed before his third birthday.
"You don't know how strong you can be until you have to," says Amanda Hokanson, reflecting on her nervousness and concerns from the time of Austin's birth through each of his surgeries.  "I saw this little baby who was being as strong as he possibly could from the day he was born, so I needed to be just as strong for him."
"Austin recovered well from each surgery and continues to be cared for by a multidisciplinary team that monitors the function of his organs and any growth or other developmental problems," said Dr. Tarek Husayni, pediatric cardiologist at AHI and Advocate Children's Medical Group.
In February 2013, Amanda decided to give back to the hospital that saved her son's life by reestablishing the Oak Lawn chapter of Mended Little Hearts, a group that provides support and encouragement to congenital heart defect patients and their families. Amanda delivers care bags to the hospital which include items for both the hospitalized child and the parents, such as a journal, snacks, stress balls and coloring books. The goal is to ensure that every child with a heart defect gets a care bag and parents have someone to whom they can talk to.
By tagging along with his mom to deliver the care bags, Austin has learned to view the hospital as a caring place for many children – not just associate it with the experiences of his own surgeries.
"I wouldn't want to be anywhere else in the world for Austin's care," says Amanda. "I can't even express in words how much the team here means to my family."
Related Posts
Comments
About the Author
Julie Nakis, health enews contributor, is manager of public affairs at Advocate Children's Hospital. She earned her BA in communications from the University of Iowa – Go Hawkeyes! In her free time, she enjoys spending time with friends and family, exploring the city and cheering on the Chicago Cubs and Blackhawks.