Smoking increases death risk for colon cancer survivors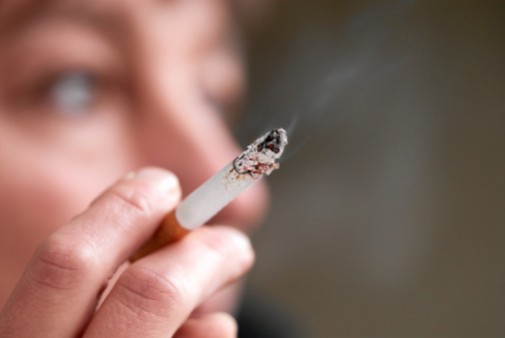 Need another reason to quit smoking? For colorectal cancer survivors, kicking the habit can quite literally mean the difference between life and death. Colorectal cancer survivors who smoke cigarettes are more than twice as likely to die as non-smoking survivors, according to a new study.
"Smoking is associated with a nearly twofold higher risk of death compared with never smoking," said Peter T. Campbell, PhD, director of the tumor repository in the epidemiology research program at the American Cancer Society. "Further research is needed to understand mechanisms whereby smoking may increase colorectal cancer-specific mortality and determine if quitting smoking after diagnosis lowers the risk of colorectal cancer-specific mortality."
The findings come from a new study of more than 2,500 adults by the American Cancer Society published in the Journal of Clinical Oncology.
Patients who continued to smoke after being diagnosed with colorectal cancer demonstrated higher rates of all-cause mortality and colon cancer-specific mortality, according to the study. It is plausible smokers have more pathologically aggressive tumors or that tumors make cancer treatment less effective, the study authors said.
Further evidence of the dangers of smoking and the benefit of quitting result in these findings, health experts say.
Cigarette smoking is the number one cause of preventable disease and death worldwide.
"We've known for a long time that smoking is harmful to your health," says Dr. Anshuman Chawla, a gastroenterologist at Advocate Good Samaritan Hospital in Downers Grove, Ill. "The negative effects of smoking are serious and far reaching; I encourage all my patients to kick the habit."
Related Posts
Comments
About the Author
Lisa Parro, health enews contributor, is manager of content strategy for Advocate Aurora Health. A former journalist, Lisa has been in health care public relations since 2008 and has a master's degree in journalism from Northwestern University. She and her family live in Chicago's western suburbs.