Orthopedic surgeon sheds light on Patrick Kane's injury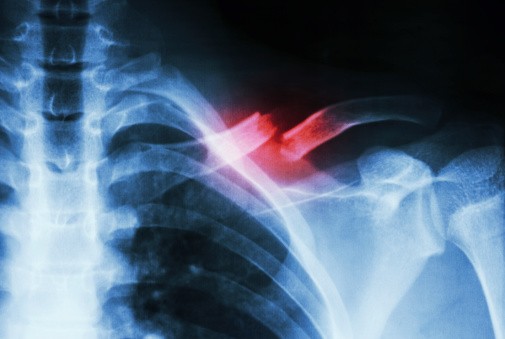 When Chicago Blackhawks star Patrick Kane crashed into the boards late last month, sustaining a broken left collarbone, many fans felt their season come crashing down with him.
The injury is common among both hockey and football players. But how serious is it and how soon could Kane be back on the ice? The collarbone or clavicle is a long, curved, tubular bone that adds protection to the chest and allows a place for attachments of ligaments and muscles. The most common injuries to the collarbone occur while falling on the shoulder during sports. Sometimes it can occur from being struck by a heavy object or from a car accident.
When the injury occurs, one typically feels immediate severe pain and cannot lift their arm. Physical examination can show an obvious deformity or "bump," at the site of the fracture. The area is very tender and will "grind" when the arm or shoulder moves. In rare cases, the skin can be penetrated by the ends of the bone, which constitutes an open or "compound" fracture.
X-rays are used for making a diagnosis of clavicle fractures. Sometimes, they can reveal injuries to the ligaments that attach the clavicle to the chest plate or shoulder bone.
Surgery is rarely needed and treatment often consists of sling immobilization for a few weeks. Failure of bone healing is rare, but can happen with severe displacement or separation of the fracture fragments. Usually after three weeks, then patient can begin to do shoulder exercises.
Common indications for surgery are "open" injuries, associated ligament injuries, severely displaced fractures, tented skins, and "floating arms" (clavicle and wrist or arm fractures). Also, bilateral injuries can often require surgery.
Kane had surgery for his clavicle the day after his injury because the fragments were significantly separated and the team doctors felt he would have a better outcome and quicker return to hockey with surgery.
Full recovery will take 12 weeks, which means Kane would be out until the Western Conference Finals in June.
Related Posts
Comments
About the Author
Dr. Jeffrey Kazaglis is an orthopedic surgeon on staff at Elgin-based Advocate Sherman Hospital who completed 22 years of military service. Dr. Kazaglis specializes in general orthopedics, fracture care, hand surgery, sports medicine, joint reconstruction and arthroscopic surgery of the hip, knee, ankle, shoulder, elbow and wrist. He lectures extensively on knee and shoulder problems with a focus on sports injuries.