Can watching cooking shows lead to weight gain?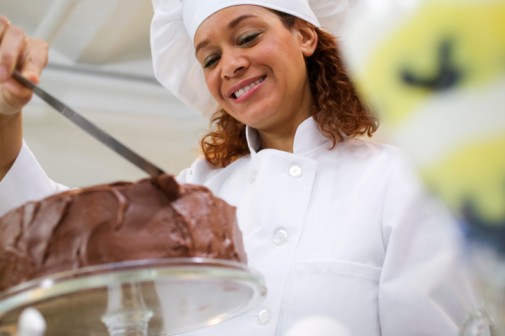 Do you love watching cooking shows like Iron Chef or Rachael Ray?
Watching chefs make these scrumptious meals or desserts can be entertaining, but could the shows actually be causing you to pack on the pounds?    
A new study published in Appetites suggests that those who spring into action and actually try the recipes may be eating extra calories resulting in weight gain.
The study included over 500 women between 20 and 35 years old, and asked them where they obtained information about new recipes.  Women who cooked from scratch after seeing a recipe on television actually weighed, on average, 10-pounds more than those who obtained new recipes from magazines and newspapers, as well as friends or family members. Women who were avid food television fans, but rarely brought the recipe to the kitchen, also were less likely to gain extra weight.
Medical experts agree that cooking shows can mislead viewers.
"The recipes we see on television are often not the healthiest," says Dr. Naomi Parrella, family medicine physician at Advocate Lutheran General Hospital in Park Ridge, Ill. "While the television hosts tout the food as 'healthy', sometimes that may not be the case. Cooking from scratch does not necessarily mean it is healthier. The ingredients do matter."
The study also found a correlation between higher body mass and women who made recipes they found on social media sites like Instagram or Pinterest.
"It really all comes down to what you put in your mouth," says Dr. Parrella. "While it is generally healthier to cook from scratch in the kitchen than eating out all the time, we all need to be very careful about what we are popping in the oven."
Related Posts
Comments
About the Author
Evonne Woloshyn, health enews contributor, is director of public affairs at Advocate Children's Hospital. Evonne began her career as an anchor and reporter in broadcast news. Over the past 20 years, she has worked in health care marketing in both Ohio and Illinois. Evonne loves to travel, spend time with family and is an avid Pittsburgh Steelers fan!