Another reason to exercise while pregnant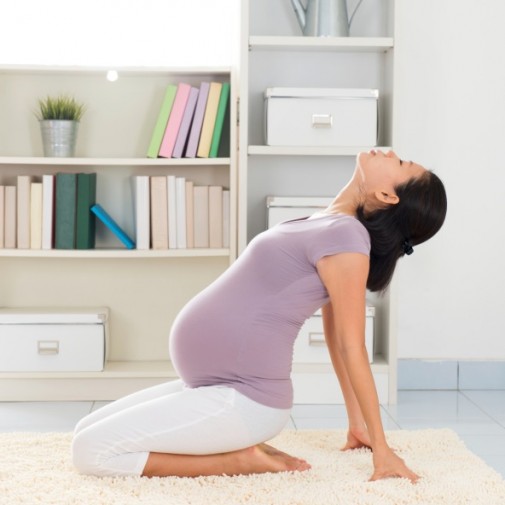 A new study suggests prenatal exercise significantly lowers the risk of undergoing a caesarean section and decreases the chance a mother may give birth to an overweight baby.
Researchers at the University of Alberta in Canada analyzed 28 studies that included 5,322 pregnant women and compared those who exercised with those who did not. Pregnant women who exercised had a 20 percent decrease in having a C-section and a 31 percent decrease in having a large baby.
"I completely agree," says Dr. Jeness Barthel, obstetrician/gynecologist on staff at Elgin, Ill.-based Advocate Sherman Hospital. "Talk to you doctor about exercise during pre-pregnancy and pregnancy so that you can start working toward a healthier tomorrow."
The American College of Obstetrics and Gynecology recommends that pregnant women with medical or obstetric complications should attempt to achieve a moderate level of exercise for at least 30 minutes a day, if not every day of the week. This includes previously active and inactive women prior to pregnancy and during the postpartum period.
If not active prior to pregnancy, Dr. Barthel suggests women start exercising 15 minutes per day, three times a week and then increase the number of times they workout per week to five days a week for 30 minutes.
Physician experts have seen several health benefits with pregnant women who exercise.
"It has been shown that exercise can lower one's risk for gestational diabetes by improving blood sugar control," Dr. Barthel says. "If a fetus is appropriate weight and a mother is not obese but in shape, it also makes sense that the chance for labor difficulties is less likely, therefore, so is the need for a C-section."
Dr. Barthel recommends these tips for exercising while pregnant:
Get a pre-medical exercise screening prior to working out – Simply, this is a visit where the doctor will go over your general physical condition, exercise history, medications, risk factors for heart or orthopedic disease, and handicaps. The physician will help formulate a plan for the type of exercise to meet your needs. This can be done during a woman's first obstetrical visit.
Follow a plan – The format for a woman's daily exercise should be five to 10 minutes of warm up or stretching, 30 to 45 minutes of moderate-level exercise, and five to 10 minutes of cool down. Heart rate should not exceed 150 to 155 beats per minute regardless of age, and women should not perform any exercise that may lead to dehydration or overheating.
Specific conditions where exercise may be discouraged include vaginal bleeding, leakage of fluid, lightheadedness, unusual shortness of breath prior to exertion, chest pain, headache, muscle weakness, calf pain or swelling, uterine contractions and decreased fetal movements.
"Specific diagnoses such as preeclampsia, if diagnosed by a woman's obstetrician, may restrict ability to exercise," Dr. Barthel says. "However, in non-preeclamptic women, moderate exercise both pre-pregnancy and during pregnancy has been shown in studies to reduce the risk of developing preeclampsia."
Related Posts
Comments
About the Author
health enews staff is a group of experienced writers from our Advocate Aurora Health sites, which also includes freelance or intern writers.