Text reminders could prevent skin cancer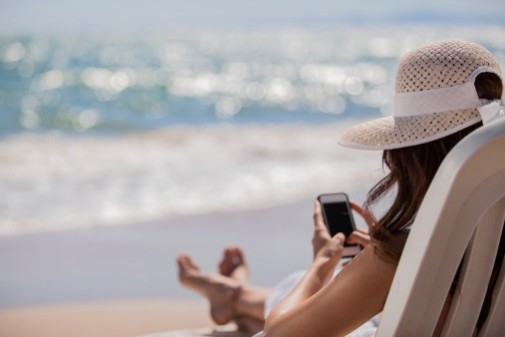 In a society where cell phones are seemingly everywhere, text messages may improve sun protection and skin evaluation habits, according to a study that was published in the journal Preventative Medicine.
The experiment randomly assigned more than 500 participants to a specific topic they would receive information via regular text messages during a 12-month period. The goal of the study was to determine whether or not regular texts could influence skin cancer prevention and promote sun protection.
One group received texts with reminders to wear sunscreen and limit their time in the sun during specific hours, while a second group received messages encouraging them to perform an evaluation of their skin. A third group – the control group – was sent texts that promoted exercise.
Through in-depth telephone interviews with study participants, the researchers collected information before, during and at the conclusion of the study, using it to determine sun protection and skin evaluation habits.
The text messages were effective by positively influencing a change in the participant's behaviors concerning skin protection and examination.
"Text messages are conversational in tone, and those used for the trial were designed to suggest and reinforce understanding and behavioral skills in relation to skin cancer prevention and early detection of symptoms," study leader Monika Janda said in a news release.
Skin cancer is the most common form of cancer in the U.S., according to the Centers for Disease Control and Prevention.  Rates of melanoma in men and women continue to rise.
Dr. Adam Riker, medical director of the melanoma program at Advocate Christ Medical Center in Oak Lawn, Ill., and director of the medical center's Cancer Institute, sees first-hand the reason melanoma is increasing in people.
"Too much sun is the main reason people develop skin cancer," Dr. Riker says. "Genetic factors like fair skin, freckles and moles can also increase the chances of developing melanoma."
Despite increased educational focus on the dangers of tanning, Dr. Riker says melanoma rates aren't getting any lower. In fact, skin cancer is the most rapidly growing cancer in women between 20 and 40 years old in the U.S.
"The disease is highly curable if detected in the early stages," Dr. Riker says. "I encourage everyone to perform a full, skin exam at home once a month to stay alert for any changes in their skin. People should look for new freckles or moles that might appear and examine existing moles or freckles for changes in size, shape or color."
Related Posts
Comments
About the Author
Julie Nakis, health enews contributor, is manager of public affairs at Advocate Children's Hospital. She earned her BA in communications from the University of Iowa – Go Hawkeyes! In her free time, she enjoys spending time with friends and family, exploring the city and cheering on the Chicago Cubs and Blackhawks.