Kids benefit when mom works outside the home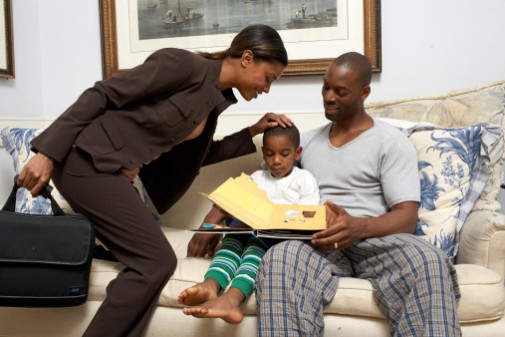 It's not uncommon for some working moms to feel guilty for not spending more time with their children, but a recent study shows that being a working mom has economic, educational and social benefits, especially for their daughters.
In the study of 50,000 adults in 25 countries, daughters of working moms completed more years of education, were more likely to be employed and in supervisory roles, and earned higher incomes. The study also showed that women in the U.S. with working moms were paid 23-percent more than those raised by stay-at-home moms.
"Being a mom is 24/7 job, it never ends," says Joanna Lindell, child psychiatrist with Advocate Children's Hospital in Park Ridge, Ill. "For those of us given the choice of whether or not to be a stay-at-home mom or work, I believe that the question really shouldn't be which is better, but rather, which one would leave us more fulfilled. I find that mothers who are themselves satisfied with their roles in life have the most positive impact on their children."
Whether a mother worked or stayed at home didn't have as much influence on the careers of sons. Researchers said this was not surprising because men were generally expected to work — but sons of working mothers did spend more time on child care and housework.
"Part of this working mothers' guilt has been, 'Oh, my kids are going to be so much better off if I stay home,' but what we're finding in adult outcomes is kids will be so much better off if women spend some time at work," said Kathleen McGinn, a professor at Harvard Business School and one of the study's authors, in a news release.
Dr. Lindell says both stay-at-home moms and working moms can instill a strong work ethic, sense of independence, social confidence, financial savviness, and self-assurance, especially with daughters.
"Kids are like sponges, they absorb what they see and feel," she says.
Related Posts
Comments
About the Author
Sonja Vojcic, health enews contributor, is a marketing manager at Advocate Health Care in Downers Grove, Ill. She has several years of international public relations and marketing experience with a Master's degree in Communications from DePaul University. In her free time, Sonja enjoys spending time with her family, travelling, and keeping up with the latest health news and fashion trends.