30 percent of Americans have struggled with alcohol abuse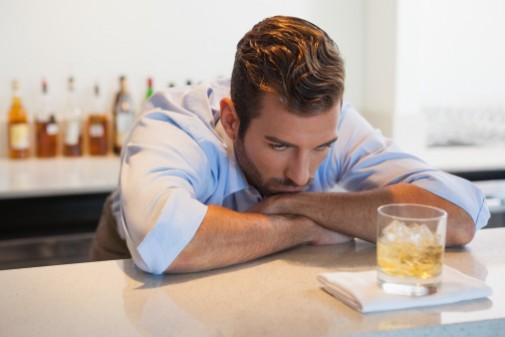 Problem drinking is more common and less frequently treated than previously thought, according to a recently published study in the journal JAMA Psychiatry. The new research showed that nearly 30 percent of Americans have suffered from alcohol use disorder at some point in their lives.
The study also points out that that a relatively low number of people – 19.8 percent – actually receive treatment for drinking problems.
"Alcohol is a contributing factor in a staggering amount of health problems," says Dr. Rushia Butler, family medicine physician on staff at Advocate South Suburban Hospital in Hazel Crest, Ill. "This study is important because it really emphasizes how many people are putting their wellness at risk with a problem they aren't acknowledging or addressing."
Dr. Butler notes that one of the more concerning results from the study was that among the 18- to 29-year-old group, 7.1 percent suffered from severe AUD (meeting at least six of the 11 criteria) over the past 12 months.
"Early adulthood is a time when many people establish patterns for the rest of their lives," she says. "This research really points to the need for better education and prevention, as well as identification of emerging problems and interventions so that these issues can be headed off at the pass."
AUD is the medical diagnosis for problem drinking that causes mild to severe distress or harm.  The 11 established criteria for an AUD include having strong cravings for alcohol, making unsuccessful attempts to cut back on drinking, and alcohol use causing problems at home, work or school.
According to the National Institute on Alcohol Abuse and Alcoholism, the diagnosis AUD has been around for more than a decade and covers a wider variety of problems than the term "alcoholism," which doesn't have a precise medical definition. Alcoholism would be equivalent to an alcohol use disorder that is "moderate to severe," however, it often involves compulsive drinking and an inability to stop using alcohol.
Alcohol abuse is the third-most preventable cause of death after smoking and obesity, according to the Centers for Disease Control and Prevention. Alcohol is directly related to the loss of 88,000 lives, costs the economy $224 billion each year, and is a contributing factor to cirrhosis, esophageal cancer, overdose, homicide and other causes of premature deaths.
"These findings underscore that alcohol problems are deeply entrenched and significantly under-treated in our society," said George F. Koob. Director of the NIAAA, in a news release. "The new data should provide further impetus for scientists, clinicians, and policy makers to bring AUD treatment into the mainstream of medical practice."
Related Posts
Comments
About the Author
Nate Llewellyn, health enews contributor, is a manager of public affairs at Advocate Medical Group. Nate began his career as a journalist and builds daily on his nearly 20 years of writing experience. He spends most of his free time following his wife to their two sons' various activities.