5 ways to help those with lupus in the workplace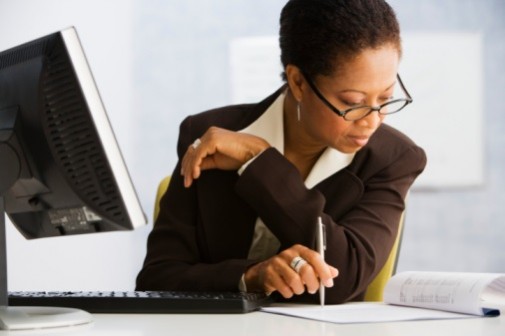 Lupus can be a debilitating disease with many twists and turns. One minute a person may be feeling fine, and the next he or she is having a flare up that can cause severe pain, headaches and swelling, making it difficult to get through the work day.
Lupus is a chronic disease that affects the immune system. According to the Lupus Foundation of America, lupus occurs when your body's immune system cannot tell the difference between these foreign invaders and your body's healthy tissues, and creates autoantibodies that attack and destroy healthy tissue.
Typically, the skin, joints, heart, kidney, lungs and nervous system can all be affected. Symptoms come and go, and no two people experience lupus the same way.
Dr. David Mael, a rheumatologist at Advocate Illinois Masonic Medical Center, in Chicago provides helpful tips for those balancing lupus while at work:
Communication is key: It's important to develop an honest and open dialogue with your boss, physician and physical therapist. Seeing your doctor on a regular basis, taking your medication and following through on your necessary blood and lab tests, can all help. Discuss your barriers and limitations by having them understand what you are going through. Focus on the positive.
Write it down: Documenting your symptoms in a journal can help you to keep track of your triggers and flare-ups. Being intuitive to what your body can handle and the stress level it can take will help you better understand what type of day you can expect at work.
Know your limitations: Lupus isn't a cookie-cutter condition and can affect people differently. If you are sensitive to light then avoid working in a job that has you outside a lot, if possible. Sometimes the best solution is to look for another job that might fit better with your disabilities or think about switching to part-time hours.
Rest: Lupus can cause fatigue and joint pain, which can keep you from working at your full potential. Don't be afraid to take small breaks throughout the day and pace yourself. My recommendation is to also try and get a good night sleep with an aim of eight hours a night.
Look at all options: Family and Medical Leave Act can help you balance workplace demands with a serious condition. Completing the request form can entitle an employee to take up to twelve work weeks of leave in a 12-month period without being penalized. I suggest that patients talk to their health care provider and have a doctor's note to help them with the process. It's also important to know that the Americans with Disabilities Act helps disabled employees perform their job while providing reasonable accommodations for the employee.
"There is no reason that people with lupus can't have productive and successful careers," says Dr. Mael. "People should not be intimidated by the diagnosis, but instead adapt."
Related Posts
Comments
About the Author
health enews staff is a group of experienced writers from our Advocate Aurora Health sites, which also includes freelance or intern writers.