Study finds hospital births safer than home births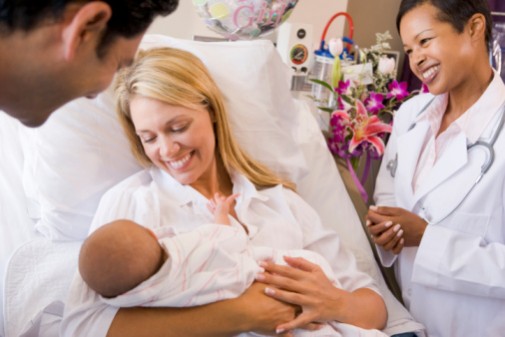 Delivering a baby in a hospital is safer than delivering at home, especially for mothers living in poorer areas, according to new research.
Home births lead to higher infant mortality compared to hospital births, according to a long-term study of low-risk Dutch women conducted in the Netherlands. The study comes as more and more healthy women are choosing to deliver their babies at home, typically under the care of a midwife or other licensed health care professional.
In the U.S., less than 1 percent of births occur in the home, according to the American Congress of Obstetricians and Gynecologists. But, this number is on the rise – especially among non-Hispanic white women and women age 35 and older, according to the U.S. Centers for Disease Control and Prevention.
The safety of home births for women with low-risk pregnancies has been hotly debated in recent years. The study singled out "proximity to medical technologies" such as a Neonatal Intensive Care Unit as one of the reasons hospital births result in better outcomes.
"When women give birth in a hospital, they are surrounded by a team of health care professionals who are focused on their care and the care of their newborn," says Dr. Karen Wolowick, obstetrician/gynecologist at Advocate Good Samaritan Hospital in Downers Grove, Ill. "The hospital setting also features high-tech equipment for monitoring the health of mom and baby throughout the entire labor, delivery and post-partum recovery process."
Yet in the U.K., women are advised to have children at home or in a birth center rather than a hospital. The home birth rate in the Netherlands, where the study took place, is the highest in the Western world – 25 percent of births took place at home during the study period of 2000 to 2008, making it an ideal place to examine the safety of the home birth trend.
The study examined more than 350,000 women over an eight-year period. It took into account infant mortality and where women lived – both the distance from the nearest hospital and their postal code's median household income. Giving birth in a hospital leads to substantial reductions in newborn mortality, especially among lower-income mothers, the authors concluded.
"As high health care costs persist and out-of-hospital births keep rising sharply in many developed countries, understanding the impact of home births on newborn outcomes becomes even more important," study authors said in a news release. "Taken together, our results suggest that giving birth in a hospital leads to economically large mortality reductions even in a health care system that is specifically geared toward risk selection and home births."
Related Posts
Comments
About the Author
Lisa Parro, health enews contributor, is a content manager for Advocate Health Care and Aurora Health Care. A former journalist, Lisa has been in health care public relations since 2008 and has a master's degree in journalism from Northwestern University. She and her family live in Chicago's western suburbs.