New concussion law aims to protect student athletes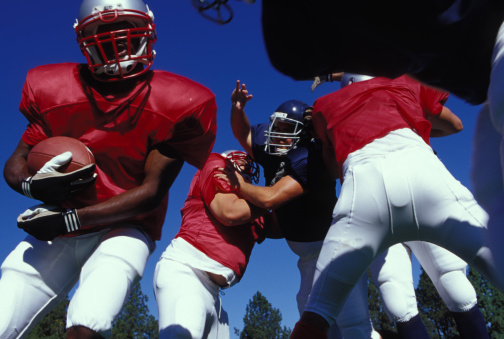 Student athletes in Illinois received an added layer of protection through a new law concerning concussions and head injuries.
Gov. Bruce Rauner signed Senate Bill 7 earlier this month. It extends some concussion-related measures already in place and expands them.
In general, the law requires schools to establish concussion related measures. Which include protocols for a student's return to sports following a concussion. The law will also require training courses for coaches, athletic trainers and other health care professionals.
It takes effect immediately and will affect elementary to high school students in the state of Illinois enrolled in interscholastic sports. Both public and private schools must adhere.
Dr. Mark Neault, an Advocate Medical Group orthopedic surgeon at Advocate Condell Medical Center in Libertyville, Ill., says it's vital to raise concussion awareness.
"Athletes, coaches and parents have underestimated the importance of a concussion, not realizing it is actually a traumatic brain injury," says Dr. Neault, who specializes in sports medicine. "A law such as this can be very helpful in raising awareness."
The key to the law's success, he says, is training. Those making the return-to-play decisions – whether they are athletic trainers, coaches or physicians – must be well-trained in the identification and management of concussions.
Having all parties really know their athletes is important in making a vital decision.
"Understanding the general demeanor and personality of an athlete can aid in identifying changes in personality and performance," Dr. Neault says.
Although student athletes can't always avoid concussions, there are steps they can take to help prevent the brain-injury.
Dr. Neault has the following suggestions:
Play smart.
Wear the correct protective gear. In sports that require them, proper helmet fittings are essential and chin straps must be latched.
If you think you have a concussion, report it to a coach, parent or athletic trainer and stop play until directed further.
Mouth guards have been shown to reduce dental injury, Dr. Neault says, and trauma of the jaw slamming together can be lessened with a mouth guard and therefore may reduce impact force to the brain.
Well-trained referees can help prevent injury as well, he notes.
Dr. Neault says concussions need to be approached with respect.
"Very difficult decisions need to be made at times, and state championship games may need to be missed," he says. "A concussion is not an injury you can play through. No pain, no gain does not apply here. Think of a concussion as a bruise to the brain. Continued play and stimulation makes that bruise worse and can extend recovery time."
According to the U.S. Center for Disease Control and Prevention, an estimated 248,418 children ages 19 years old and younger were treated in emergency departments with a concussion or TBI from sports and recreation-related injuries. The rate of ED visits for sports and recreation-related injuries with a diagnosis of concussion or TBI rose 57 percent among children ages 19 or younger.
Related Posts
Comments
About the Author
Kathleen Troher, health enews contributor, is manager of public affairs and marketing at Advocate Good Sheperd Hospital in Barrington. She has more than 20 years of journalism experience, with her primary focus in the newspaper and magazine industry. Kathleen graduated from Columbia College in Chicago, earning her degree in journalism with an emphasis on science writing and broadcasting. She loves to travel with her husband, Ross. They share their home with a sweet Samoyed named Maggie.