Inspired by Andrew, helping teens face cancer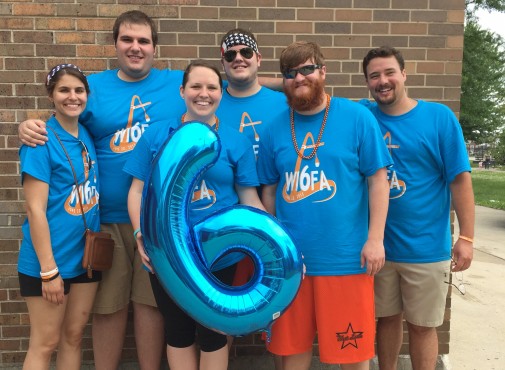 My cousin and longtime best friend, Andrew lost his battle with cancer in 2009, yet Andrew continues to be my inspiration for helping young people tackling this devastating disease.
He is best remembered as a caring brother, loving son, standout student, huge Bears fan—and a happy, friendly, funny, life-of-the-party goofball. But above all else, Andrew was a fighter.
Andrew was diagnosed with Hodgkin's lymphoma in 2004, just after he completed 8th grade. He spent his high school years and first year of college undergoing countless treatments including chemotherapy, stem cell transplants and bone marrow transplants.
Andrew's long fight ended on November 20, 2009 when he was just 19.
Moved by his courage, some of Andrew's friends and family founded the nonprofit Walk It Out For Andrew, or "WIOFA," in 2010. Our fundraisers benefit Advocate Children's Hospital, and our mission is to keep Andrew's inspiring passion alive by supporting Chicago teens battling cancer and blood diseases. As WIOFA's Director of PR and Marketing, I've watched the organization's incredible growth from a one-time community 5K walk to a strong force now in its sixth year of fundraising.
Support for courageous teens
In 2014, WIOFA committed to funding the Teen Hematology & Oncology Support Group at Advocate Children's Hospital in Oak Lawn. This past year, we doubled our commitment and started funding the support group at Advocate Children's Hospital's Park Ridge campus, as well.
The support groups are for hematology and oncology patients, ages 13-21 and promote normalization, socialization and mutual support. Groups help adolescent patients restore hope, achieve a sense of belonging and regain independence by hosting entirely free outings to Six Flags Great America, Blackhawks games and indoor skydiving.
At WIOFA, we fund the groups because they are so important to the many teenagers who face huge obstacles every day. Too young to die, but old enough to fully grasp that they very well might—these teens maybe in a dark and lonely place. Yet, like Andrew, they keep themselves going, not only by fighting the physical battle, but also by mustering unmatched mental strength.
Andrew's legacy
The day before Andrew passed away, I sat beside him in silence until he cleared his throat and said, "Don't be scared." Aside from "goodnight" and "love you," that was the last thing he ever said to me.
He might have meant 'don't be scared of death' or 'don't be scared of losing me,' but I like to think he had a bigger idea in mind. He knew I lacked confidence sometimes, so I imagine he meant "don't be scared of the future'—and most importantly, 'don't be scared to try.'
As you go about your day, I hope you'll take a little bit of Andrew with you and remember those words. Since you're reading this, you likely share our goals of a better, healthier community for all of us—and a circle of caring around teens facing cancer. Don't be scared to push yourself to make those dreams real.
Our commitment, your help
We're committed to offering these brave patients as much support as we possibly can and to continuously expanding our fundraising initiatives. In addition to the successful 6th Annual 5K walk we hosted in June, we have organized a Chicago Marathon team and a "Day at the Races" event at Hawthorne Racetrack on November 7. Click here to learn more.
Related Posts
Comments
About the Author
Shannon Page is the public relations and marketing director for Walk it Out for Andrew, an organization that supports the Teen Oncology Support Group at Advocate Children's Hospital.