Are kids' heavy backpacks weighing them down?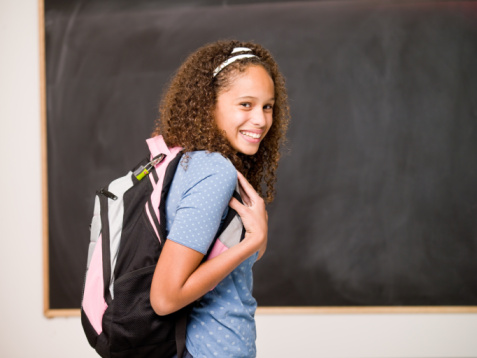 Now that school's back in session, backpacks are being filled up with books, homework assignments, school lunches and other heavy items – a recipe for potential health problems.
Backpacks that are too heavy or worn incorrectly can lead to severe back, neck and shoulder pain as well as posture problems, experts say.
"Whether young or old, carrying heavy objects like backpacks can cause injury and contribute to long-term wear and tear on our spine and joints," says Dr. Steve Chudik, orthopedic surgeon and sports medicine physician at Advocate Good Samaritan Hospital in Downers Grove, Ill. "Children and young adults are generally healthy and more able to carry excessive weight without complaining, but it isn't good for anyone."
Dr. Chudik recommends children minimize the weight of backpacks to help prevent shoulder, back and neck problems later in life.
There has been a trend among school districts across the country to shelve traditional hardcover textbooks in favor of lightweight multimedia tablets. Two-thirds of U.S. schools now offer e-books, a 10-percent increase over last school year, according to recent survey.
The American Occupational Therapy Association sponsors a national "Backpack Awareness Day" on Sept. 16 to bring awareness to parents, kids and educators about proper bag usage. The association offers the following backpack safety tips:
Utilize different compartments and pockets to distribute weight, with heaviest items closest to the back center of the backpack and lighter items in the front of the backpack, farthest from the body. The load should be no more than 10 percent of the child's weight.
Bend and lift at the knees, not the waist, to pick up the backpack to protect the back.
Always use both shoulder straps to prevent injury. The backpack should rest snugly against the back. To ensure a proper fit, make sure the backpack doesn't extend past the child's shoulders or below the top of the hipbones.
Watch for warning signs that the backpack is too heavy – difficulty when putting on or taking off the backpack, pain when wearing the backpack, arm or leg tingling or numbness, red strap marks on the child's shoulders, or any change in side-to-side posture while wearing the backpack.
Related Posts
Comments
About the Author
Lisa Parro, health enews contributor, is manager of content strategy for Advocate Aurora Health. A former journalist, Lisa has been in health care public relations since 2008 and has a master's degree in journalism from Northwestern University. She and her family live in Chicago's western suburbs.