My first mammogram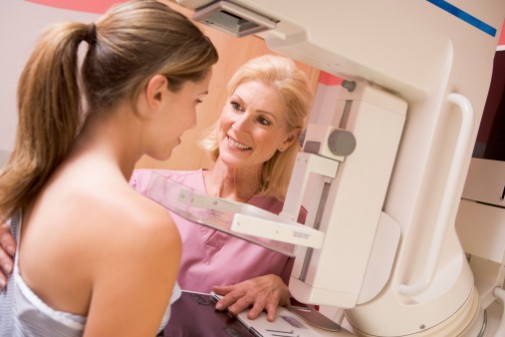 I recently was experiencing some pain in my breast and I was worried since there is a history of breast cancer in my family. So this summer, I made the appointment and went for the dreaded mammogram.
I'm sure you all have heard horror stories about getting this done and about the pain of getting your boobs squished. I was really nervous since my breast was already hurting.
The technician, Kathy, knew I was nervous, so she talked and joked with me and was very personable and professional. She put me at ease (or at least as much as she could). She even laughed when I told her I would be blogging about this and needed to take pictures. I didn't take pictures of me actually getting the mammogram (no one wants to see that…lol.) But I did take pictures of the equipment. The machine looks a whole lot scarier than it really was.
Ok, those that said how painful getting a mammogram is LIED or they have no pain tolerance at all. It didn't hurt; it was a little awkward, but didn't hurt at all. It was very quick. She took four pictures on each breast lasting about 10 seconds each.  That is a total of 80 seconds. I think this is no problem to get done once a year. They also have new technology that has a very fancy technical name, but is essentially a 3D mammogram.
So while you're getting the traditional mammogram, which is a flattened image or 2D, they also do the 3D mammogram. This new 3D mammogram takes images of the breast in layers. This allows your doctor to see the breast tissue in one millimeter layers. Basically means your doctor can get a better idea of what is going on in your breast and find anything bad faster…Woo hoo!
Because I was having pain in my breast, I also had to get an ultrasound done. This part doesn't hurt at all and the gel they used was warmed up. They made sure I was comfortable during everything and for that I am very thankful.
The ultrasound part took more time than the mammogram but I guess they have to be thorough. I was very happy that I got my test results right away. The doctor was very friendly and put my mind at ease right away…NO CANCER. I feel like a huge weight has been lifted off my shoulders.
Please ladies, if you are over 40, get your breasts checked yearly. In my experience, it doesn't hurt, doesn't take much time out of your busy schedule, and could save your life.
This post was originally published on my personal blog, here. (And I have to give a shout out to the team at High Tech in Palos Heights, Ill. for making my first mammogram so easy and painless.)
Related Posts
Comments
About the Author
Donna Ettinger is an Epidemiologist / Disease Intervention Specialist for Cook County Department of Public Health. During her 20+ year career she has spent most of it in the STD/HIV unit. She is also an Avon Representative, achieving President's Club status last year, and a beauty blogger. She can be found blogging at Beauty Confessions of an Avon Lady at: www.donnasbeautyconfessions.wordpress.com She is also a dog lover and loves spending time with her Boxer, Zoey and her Pit Mix, Zeus.