More kids are being diagnosed with Type 2 diabetes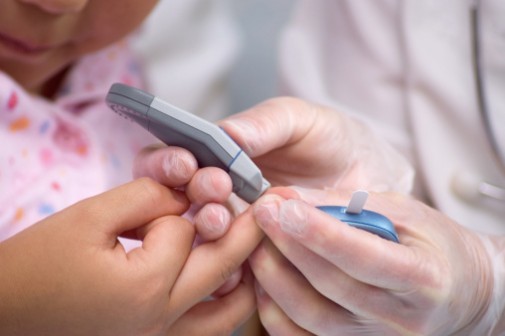 With childhood obesity on the rise, doctors are now treating an increasing number of kids for a disease usually associated with adults – Type 2 diabetes.
At a diabetes conference this week, a case study was presented on a 3-year-old girl from Texas who is thought to be the youngest patient ever with Type 2 diabetes. The toddler's physician, Dr. Michael Yafi of the University of Texas Health Science Center, revealed the patient's family had poor nutrition habits, regularly consuming food high in calories and fat.
The child, whose main symptoms included excessive urination and thirst, weighed 77 pounds when she was diagnosed. Dr. Yafi started the young girl on medication immediately, and her parents were strongly encouraged to change their diet and lifestyle habits. Six months after the diagnosis, the young child had lost weight, her blood glucose levels normalized and she was able to stop treatment.
"Sadly, I am not surprised by this case study," says Dr. Vidhya Viswanathan, pediatric endocrinologist at Advocate Children's Hospital in Oak Lawn, Ill. "The obesity epidemic in America is catastrophic, and it is causing young children to be diagnosed with preventable diseases that are typically only seen in adults."
While Type 2 diabetes can be reversed through early diagnosis and proper treatment, Dr. Viswanathan warns that this is often not the case unless a child's family dynamics are completely overhauled. Children with Type 2 diabetes often have parents who struggle with their own weight issues and dietary choices, so they are living in an environment that does not promote healthy eating or physical activity.
"Within two years of diagnosis, an estimated 50 percent of children with Type 2 diabetes need insulin therapy because their blood sugar levels are still not in the normal range," he says. "This often occurs because poor diet choices continue to be made in the child's household."
More than 5,000 new cases are estimated to be diagnosed each year among those under the age of 20, according to the Centers for Disease Control and Prevention.
"Children with Type 2 diabetes are suffering an incredibly serious disease, and we have not even seen what long-term complications can occur as a result," says Dr. Viswanathan. "Childhood obesity is a public health problem that must be addressed on a larger scale for the rate of Type 2 diabetes in youth to ever decrease."
Parents can help their children stay healthy by encouraging physical activity, providing nutritious meals and snacks, and following the advice of their child's pediatrician.
Related Posts
Comments
About the Author
Julie Nakis, health enews contributor, is manager of public affairs at Advocate Children's Hospital. She earned her BA in communications from the University of Iowa – Go Hawkeyes! In her free time, she enjoys spending time with friends and family, exploring the city and cheering on the Chicago Cubs and Blackhawks.