Surviving breast cancer: Peg's story
Peg Mahoney's journey with breast cancer began in 2012 when she felt a small lump in her breast while performing a routine self-exam.
She went in for a mammogram, but the lump was not detected due to her dense breast tissue. Her physician then ordered an ultrasound, which was followed up by a biopsy. Shortly after, she was given the life-changing news – a tumor had been found, and it was malignant.
To provide some peace of mind about never having a recurrence, Peg Mahoney opted to undergo a bilateral mastectomy with immediate reconstruction just a few weeks after her diagnosis.
After surgery, the pathology report revealed the cancer was in both breasts and she was in a more advanced stage of cancer (Stage 3A) than originally thought.
"Two weeks after my mastectomy, I was back in the hospital undergoing surgery to have a number of my lymph nodes removed," Peg Mahoney says.
For someone with no family history of breast cancer or pre-existing risk factors, the news came as a shock.
"Everything happened so quickly that it was hard to grasp what was going on at first," she says. "I went from living a normal, healthy life to recovering from surgery and realizing that I had the fight of my life ahead of me."
A wife and mother to two sons and one daughter, Peg Mahoney met with the multidisciplinary breast team at Advocate Christ Medical Center in Oak Lawn, Ill., to discuss the best course of treatment. The medical team planned an aggressive approach to attack the cancer, which included 16 rounds of chemotherapy, seven weeks of radiation and five to 10 years of the drug aromatase inhibitor.
During those months of treatment, Peg Mahoney drew strength from her large support system of family, friends and co-workers.
"There were good and bad days, both physically and mentally, but it was made easier by seeing how much love I was surrounded by including the constant outpouring of well wishes, prayers and prepared dinners," she says.
One of her biggest supporters throughout treatment was her daughter, Kara Mahoney, who was a junior at Grand Valley State University in Grand Rapids, Mich., at the time of diagnosis.
"Even though we talked every day, it was difficult to be away at college knowing what my mom was going through," Kara Mahoney says. "I was able to make trips back home for her mastectomy and a couple chemotherapy treatments. As much as I was there as support for my mom, she was there for me just as much and made me feel at ease during her treatments."
Now cancer-free and the picture of health, Peg Mahoney wants to share her story to encourage other women to be proactive with their health by performing routine breast self-exams and scheduling annual mammograms.
"If I had not done my regular breast self-exam and felt the lump, my cancer would likely not have been diagnosed until a much more advanced stage," she says. "The outcome could have been much different than where I'm at today."
To kick off Breast Cancer Awareness Month, both Peg and Kara Mahoney will be honored by the Chicago Bears at this Sunday's football game on Oct. 4. They will be going on the field for the pregame ceremony and unfurling the "Bear Down" flag.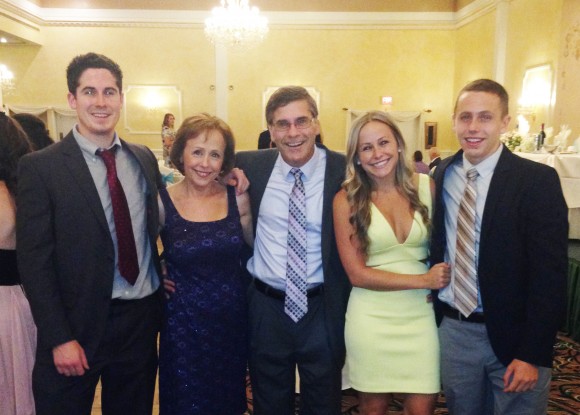 To learn more about breast health, please visit Stories of the Girls.              
Related Posts
Comments
About the Author
Julie Nakis, health enews contributor, is manager of public affairs at Advocate Children's Hospital. She earned her BA in communications from the University of Iowa – Go Hawkeyes! In her free time, she enjoys spending time with friends and family, exploring the city and cheering on the Chicago Cubs and Blackhawks.