Women with Down syndrome may not need mammograms at 40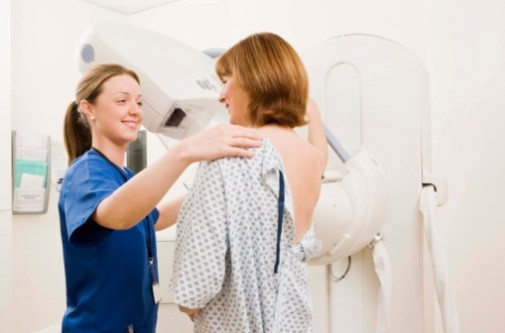 A new study suggests mammograms may not need to occur as early, nor as frequent, for women with Down syndrome as they are usually being done.
The study, published in the journal Intellectual and Developmental Disabilities, looked at breast cancer screenings for 684 women with Down syndrome, as well as the results of 993 mammograms, and discovered the following findings:
Breast cancer is uncommon in women with Down syndrome. During the 16 years of charts reviewed, less than one percent (.7 percent) of the women studied had breast cancer, and none of the cases were invasive breast cancer. This compares with a 12-percent lifetime breast cancer risk in the general population.
Mammography screening could bring greater harm than benefit. People with Down syndrome are at a higher risk for the adverse effects from the radiation exposure that comes with the diagnostic test. Also, there's concern for more intense psychological stresses that potentially accompany the screening process.
Further discussion is needed to determine if mammograms are a cost-effective part of health maintenance for women with Down syndrome.
Currently the American Cancer Society recommends all women over the age of 40 receive annual screening mammograms, while the Healthcare Quality research guidelines for women state that a mammogram is not needed until the age of 50, and then every other year after that.
The study's lead author, Dr. Brian Chicoine, director of the Advocate Medical Group Adult Down Syndrome Center at Advocate Lutheran General Hospital in Park Ridge, Ill., currently follows the Healthcare Quality Research guidelines and hopes this study  will encourage physicians to use these more conservative guidelines for women with Down syndrome.
He is also working with other organizations in a project to discuss with the U.S. Preventive Services Task Force whether even less or no mammogram screening may be appropriate for some women with Down syndrome.  This is part of an effort to update health care guidelines for adults with Down syndrome. Medical guidelines for adults with Down syndrome have not been updated since 1999.
This latest research is part of a larger effort to publish evidence-research regarding health conditions that present differently in people with Down syndrome compared to the general population.
"We want this evidence-based research to lead to meaningful change for the thousands of adolescents and adults with Down syndrome that we treat and that other doctors across the country treat, too," says Dr. Chicoine.
Related Posts
Comments
About the Author
Evonne Woloshyn, health enews contributor, is director of public affairs at Advocate Children's Hospital. Evonne began her career as an anchor and reporter in broadcast news. Over the past 20 years, she has worked in health care marketing in both Ohio and Illinois. Evonne loves to travel, spend time with family and is an avid Pittsburgh Steelers fan!