Pets may decrease asthma risk in kids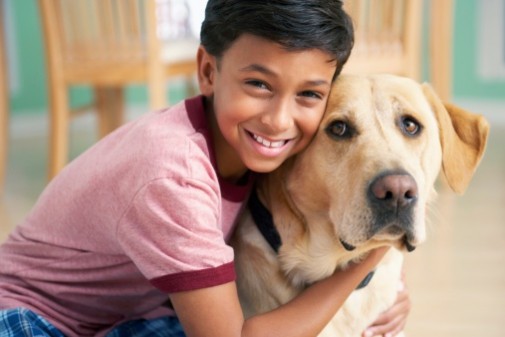 A new study suggests that when children under the age of 1 are exposed to dogs or farm animals, their risk for developing asthma later in childhood significantly decreases.
Researchers from the Department of Medical Sciences at Uppsala University in Sweden analyzed data for more than 1 million Swedish children over a 10-year period. Data showed that young children who grew up with dogs also had a 15 percent lower risk of developing asthma at 6 years old.
It is estimated that more than 25 percent of the 24 million Americans suffering from asthma are children, according to the Centers for Disease Control and Prevention. The exact cause of asthma is unknown, though asthma onset has been linked to a variety of things, including allergens, exercise, occupational hazards, tobacco smoke, air pollution and airway infections.
"Asthma is a serious condition and a growing problem across the U.S.," says Dr. Tonja Austin, family medicine physician at Advocate South Suburban Hospital in Hazel Crest, Ill. "Once children develop asthma, all we can offer is medical treatment to help them manage their disease. I don't know that a dog is the right answer for every family, but if there are steps we can take to prevent asthma, we could save many lives every year."
The CDC estimates that nine people die from asthma complications each day. Over the course of a year, children miss as many as 10 million days of school due to asthma problems, and asthma is responsible for almost 500,000 hospitalizations, 2 million emergency department visits and 9 million doctor visits annually.
"Environmental factors play a large role in asthma development and management," Dr. Austin says. "It could be positive benefits from exposure to pets, as this study suggests, or an increased risk of developing asthma due to mold or water damage in the home. Creating and maintaining a healthy living environment is the first step toward good respiratory health."
If your child or another family member suffers from asthma, Dr. Austin offers tips for avoiding asthma attacks:
Use medications, as directed, both preventive and emergency.
Remove carpeting from the home where possible. If not possible, use a vacuum with a HEPA air filter at least three times a week.
Use allergy-proof cases on pillows and mattresses to avoid exposure to dust and dust mites.
Avoid strong fumes such as those from cleaning solutions and limit exposure to secondhand smoke.
Stay on top of household repairs, especially those that can lead to water damage or mold growth.
Be proactive about overall health. Manage seasonal illnesses and allergies as they can worsen asthma symptoms if left untreated.
Related Posts
Comments
About the Author
health enews staff is a group of experienced writers from our Advocate Aurora Health sites, which also includes freelance or intern writers.